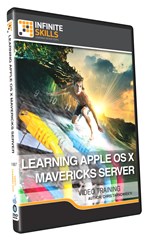 Learn Apple OS X Mavericks Server at your own speed.
(PRWEB) January 23, 2014
Software training firm Infinite Skills Inc. this week introduced its "Learning OS X Mavericks Server Tutorial," an advanced course designed to teach experienced OS X users how to setup, configure, and use the powerful capabilities of Mavericks Server.
Starting with the OS X Lions release in 2010, Apple began including most of the Server edition within the standard issue OS, leaving the server applications, work group management and administration software tools as an add-on package, OS X Server, sold through the Mac App Store. These tools facilitate access to critical network services and include a collection of management tools.
Infinite Skills' Learning Apple OS X Mavericks Server Tutorial Video dives head-on into the intricate, highly-detailed world of server protocols, file sharing, and application management, providing an essential foundation for network administration through OS X Mavericks Server.
Learning Apple OS X Mavericks Server Video Tutorial - Streaming
Course author Chris Tarnowieckyi has been running Apple servers since 1997, and training others since 1999. In 2001, he became a certified Apple instructor, and he holds several Apple certifications including system administrator, technical coordinator, and support professional. Tarnowiecky teaches primarily Mac OS X and OS X Server, and currently owns and operates an authorized Apple training center.
Tarnowieckyi begins here by waking students through an installion of Mavericks Server, explaining network and computer requirements, how to install Mavericks and the Server application, and how to configure a computer to administrate Server, following up immediately with a chapter covering the Server application interface, managing settings and network, and other preliminary steps.
The course explains how to use Workgroup Manager, how to use the UNIX command line to administer Server, and how to configure DHCP, DNS, and VPN protocols.
Tarnowieckyi continues by explaining how to secure services with certificates, build basic directory services, and how to manage Workgroups and work with managed client preferences.
From there, students will learn how to set up mobile device management, manage updates and apps, and configure and use file sharing capabilities. Tarnowieckyi shows how to set up and secure a web server, create a wiki server, and work with built in apps like Mail, Calendar, and Contacts, before exploring how to work with Netinstall and the XCode service to develop web-based apps.
Free demo videos and a full list of course contents can be found on the Learning Apple OS X Mavericks Server training page of the Infinite Skills website:
http://www.infiniteskills.com/training/learning-os-x-mavericks-server.html
Infinite Skills offers its Learning Apple OS X Mavericks Server Training Video either as a DVD or a direct download from the company website at a retail price of $99.95. Though the compatibility of programs varies, all Infinite Skills titles and formats are compatible with both Mac and Windows operating systems, and shipping is available around the globe. Additionally, Infinite Skills tutorials are supported by project files which correspond to examples in the videos.
About Infinite Skills Inc.
A leader in the field of software training, Infinite Skills designs its courses on a task-oriented model, teaching complex skills by providing hands-on examples and guiding users as they carry out essential functions. Infinite Skills offers a wide range of software titles available as DVDs, digital downloads, and in iPad editions. Infinite Skills now offers a subscription service, providing access to all its training content for a monthly fee, keeping with company's aim of delivering professional training to customers anywhere they want to learn.