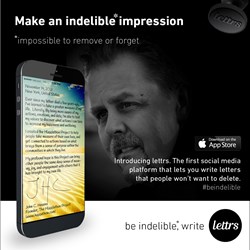 Words matter because people do, even in mobile communications. - lettrs CEO and co-founder Drew Bartkiewicz
New York, NY (PRWEB) January 23, 2014
Mobile technology platform lettrs™, which enables more lasting social communications, has announced a number of significant enhancements to its platform. These innovations are designed specifically to appeal to millennials, allowing users to add their social signature to a letter and deliver it via Facebook and LinkedIn contacts directly from the lettrs app. Paper post delivery options also include the personalized mark, a first in mobile-to-postal technologies.
lettrs has also added a patent pending Writer's Clock, a personal timer which will help writers slow down by preventing a personal communication from being sent until the minimum time has elapsed. This puts the focus on creating more personal and lasting communications in an era when so much of it has become disposable. "Words are too precious to waste, so we are shaping technology to help us reflect and rediscover the lasting impact of words in business and in life, even in mobile," said lettrs co-founder and CEO Drew Bartkiewicz.
With the enhancements lettrs is launching an advertising campaign based on the tagline, "Be Indelible," which will challenge users to consider a slighlty slower social rhythm. The ads are being targeted at millennials, who are the most frequent users of social media networks yet the least likely to be deliberate letter-writers. In a separate ad campaign, lettrs will promote the benefits of the enhanced platform, especially its LinkedIn integration, for professional users.
The social signature and writer's clock are in addition to other recent lettrs™ innovations like digital PO Boxes, a PenPal Network for Mobile-to-Mobile as well as Mobile-to-Postal options from a hugely popular lettrs iPhone App. lettrs has delivered social network or postal letters across 174 countries in its first year.
"We believe that words shouldn't be disposable and indeed can make a difference in a relationship, which makes lettrs the 'un-Snapchat,' " said Bartkiewicz, referring to the popular instant photo-sharing network whose draw is the fleeting nature of its shared images. "Our aim is to make it easy and engaging for users to deliver more meaningful communications, including pictures, with intentions that survive with friends and professional contacts in lasting ways. Longevity and the permanent hand-created mark have always been the aspiration of a personal letter, and we have brought that traditional squarely to mobile."
lettrs has expanded rapidly since the launch of its first app last April, when it was adopted first for its appeal of Mobile-to-Postal. Via its own social network features of mobile PO Boxes and PenPals, however, the number of digital lettrs delivered has grown exponentially. It is now offering the platform to millennials, whom Bartkiewicz believes desire more meaningful communications in their lives.
Bartkiewicz, a graduate of West Point and Yale University, is a technology entrepreneur and Gulf War veteran who was inspired to found lettrs because of the impact of his personal correspondence with family when stationed overseas. He is an alumnus of tech companie salesforce.com and Mashery.
About lettrs™
lettrs is the mobile and social platform for lasting words. Needing only one specific identifier of an individual (such as an email address, Facebook, LinkedIn, or Twitter handle), a person can deliver a personalized correspondence across social or postal networks. lettrs is the lasting communications platform for consumers, professionals, and brands that seek more personal engagement in social media. For more information, visit lettrs™.
Media Inquiries
Wendy Marx, Marx Communications, wmarx(at)marxcommunications(dot)com