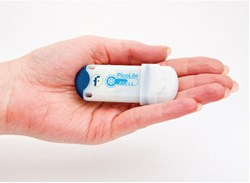 Vernon Hills, IL (PRWEB) January 22, 2014
Transformative data logging technology is expanding the tracking capabilities of manufacturers and businesses. Each of these new data loggers from Cole-Parmer captures crucial—and often regulated data—while delivering efficiency-enhancing functionality:
The PicoLite One-Trip Temperature Data Logger is a low-cost, single-use USB logger designed for cold chain shipments. With a unique boomerang feature, the logger monitors the temperature of products in the cold chain process as they are being transported. Then, it automatically creates and e-mails a PDF report with this data once it is connected to a PC. This "plug and record" functionality offers a reliable solution for food producers and pharmaceutical manufacturers transporting temperature-critical or regulated merchandise.
The CarChip® Pro and CarChip Fleet Pro Driving and Engine Performance Data Loggers are powerful vehicle management tools for business owners and fleet management companies. They keep work vehicles on the road and out of the repair shop by tracking 23 engine performance parameters, four at one time. The loggers keep fuel costs down and enhance efficiency by tracking the mileage of each vehicle. They also maximize safety and improve driver performance by setting optional alarms to alert drivers when thresholds of speed, acceleration, and braking are exceeded.
To find out more about these wireless data loggers, call 800-323-4340 or go to ColeParmer.com.
Cole-Parmer has been a leading global source of laboratory and industrial fluid handling products, instrumentation, equipment, and supplies since 1955. Our product lines, including popular brand names such as Masterflex®, Oakton®, and more, are sold through company-owned customer channel outlets and a strong network of international dealers. We also feature an ISO-17025-accredited metrology lab for instrument calibration and repair. Cole-Parmer responds with excellence to customer needs, and offers application expertise and technical support. For more information, contact Cole-Parmer, 625 East Bunker Court, Vernon Hills, IL 60061. In the US, call 800-323-4340. International customers, call 847-549-7600. Visit us at ColeParmer.com.