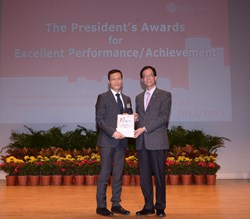 (PRWEB) January 24, 2014
The Hong Kong Polytechnic University (PolyU) today (22 January) paid tribute to 38 dedicated staff members for their outstanding achievements in teaching, research and scholarly activities and services.
The Awards are grouped in the categories of "President's Awards for Excellent Performance/ Achievement" and the "Faculty/School Awards for Outstanding Performance/Achievement." They are presented by PolyU President Professor Timothy W. Tong and the respective Faculty/School Deans.
The winners of the President's Awards are:
Teaching (Individual):

Dr Calvin Wong Wai-keung, Associate Professor and Associate Head, Institute of Textiles and Clothing
Dr Wong joined the University in September 1997. He believes that a good teacher's responsibility is to do everything in his capacity to find the most effective and efficient methods to maximize students' learning.
Dr Wong has developed and implemented innovative approaches to strengthen the interactive learning environment. In addition to the use of real-life cases, video and hands-on practice, Dr Wong's teaching innovations include the "Technology-based Simulated Fashion Shop" and the "Interactive Team-based Simulation Project." Through role-playing in a simulated environment, students not only acquire in-depth subject knowledge but also boost and develop their creativity and critical thinking skills, developing strength, confidence and ability to apply their learning to their lives.
As Chairman of the Departmental Research Committee, Dr Wong has also initiated the "Research Student Seminar Day" to be held each semester, providing a platform for research students, undergraduates and academics to share research ideas and related research matters.
Services (Individual):

Professor Qin Lu, Professor and Associate Head, Department of Computing
Professor Lu joined the University in September 1998. At the global forefront of encoding Chinese characters, Professor Lu led an international team of experts from the Chinese mainland, Japan, Korea, Vietnam, the UK and the US, in developing the combined International Standardization Organization and International Electrotechnical Commission 10646, providing over 80,000 Chinese characters used by almost all computer platforms.
She was the first to develop a scheme now included in the HTML standard which enables the interoperability of computer systems to display web pages written in different languages. Professor Lu has also helped the HKSAR Government develop, publish and implement the Hong Kong Supplementary Character Set (HKSCS) which is now widely used and supported in all Chinese computer systems in Hong Kong.
Apart from leading her team to develop the first Chinese computer interface for the visually impaired using text-to-speech technology for Chinese Windows, Professor Lu also took part in social services with her colleagues and students, such as training the teachers at a school for orphaned children in Gangsu in effective educational computer use, and teaching IT skills to children in Cambodia.
In addition, thirty-six other staff members who have achieved outstanding performances in areas including teaching, research and scholarly activities, and services, were presented the Faculty/School Awards for Outstanding Performance/Achievement.
Introduced in 1996, the award scheme serves to motivate staff to excel in their work performance and show appreciation to those with outstanding performance. The scheme adopts a two-tier awards structure, with all nominations preliminarily screened by the selection panels of the Faculty/School Awards and Awards for Non-academic Staff. Exceptionally outstanding staff or teams are recommended for the President's Awards.