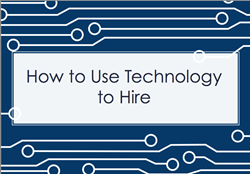 There are plenty of cost-effective tools at their disposal, and the point of this webinar is to show them just how accessible and beneficial these technologies are. -- Corey Fein, Hireology, Account Manager
Chicago, IL (PRWEB) January 22, 2014
Hireology, the leading selection management platform for distributed enterprises, will host a webinar titled "How to Use Technology to Hire" on Thursday, January 23rd at 2 p.m. CST. The one-hour webinar will focus on the various options for franchisees and small business owners looking to improve their hiring through the use of technology.
Hosted by Hireology's franchise hiring expert Corey Fein, the webinar will detail the most beneficial and cost-effective technologies managers can use to streamline their hiring process. Specifically focusing on predictive technologies, social media recruiting, and the role of job boards, attendees can expert to learn the best practices when it comes to implementing hiring technologies.
"Many franchisees and small business owners are under the impression that hiring technology tools are out of their budgets," said Corey Fein, Account Manager, Hireology. "This simply isn't the case. There are plenty of cost-effective tools at their disposal, and the point of this webinar is to show them just how accessible and beneficial these technologies are."
To register for "How to Use Technology to Hire," please click here. For more information on Hireology, please visit The Hireology Blog.