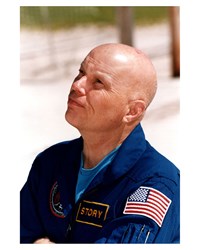 I believe the life lessons I've learned during my 30-year career as an astronaut can have important applications in the deliver of team-based medicine.
Boston, MA (PRWEB) January 22, 2014
DBC Pri-Med, LLC, the leading provider of professional medical education to a community of 260,000 health care professionals, announced that Story Musgrave, MD, Former NASA Astronaut and Scientist, will present "Mission Control: Medical Excellence" at Pri-Med South Annual Conference to be held February 6–9, 2014 at the Broward Country Convention Center. Professional education opportunities include over 35 accredited CME presentations developed and presented by the American College of Physicians.
Through stories and photos, Dr. Musgrave will present new insights on leadership in primary care that are relevant to frontline patient care. Lessons and principles honed through a career marked as an astronaut, marine, surgeon, scientist and literary critic will be shared in order to help clinicians excel in putting together clinical care teams equipped to passionately and compassionately provide individual patient and team care. Through a highly visual keynote, the former shuttle astronaut will inspire a multidisciplinary discussion of medicine.
"Clinicians should consider every patient as an urgent mission with a critical outcome," said Dr. Musgrave. "I believe the life lessons I've learned during my 30-year career as an astronaut can have important applications in the delivery of team-based medicine and I look forward to sharing my ideas. It is a great pleasure to address such a large group of practicing primary care clinicians on the front lines of care all at once. "
Dr. Musgrave's presentation will be held on Sunday, February 9, 2014 at 7:45am.
Born in 1935 on a dairy farm in Stockbridge, Mass., Dr. Musgrave never finished high school. During his career at NASA he flew on six space flights and was a part time trauma surgeon. He holds six degrees including a doctorate of medicine, as well as two bachelor's degrees and three master's degrees in subjects ranging from mathematics to business administration to literature. He has published 44 scientific papers on topics such as aerospace medicine, exercise physiology and clinical surgery.
Clinicians who register before February 2, will receive the discounted registration price of $75. For more information and to register for Pri-Med South, visit http://www.pri-med.com/south.
Click here to watch a short video preview of Dr. Musgrave's presentation "Mission Control: Medical Excellence."
About Pri-Med
Pri‐Med is an operating division of Diversified Business Communications. Based in Boston, Mass., the organization has been a trusted source for professional medical education to over 260,000 clinicians since 1995. Through live meetings in over 30 U.S. cities and online at http://www.pri-med.com, clinicians rely on Pri‐Med for opportunities to engage with local peers, meet internationally renowned faculty, and participate in world‐class educational activities. In 2012, Pri-Med purchased Amazing Charts, a leading provider of electronic health records (EHR) to independent medical practices. Amazing Charts operates as an independent operating subsidiary of Pri-Med. For more information, visit: http://www.amazingcharts.com.
About Diversified Business Communications
Diversified Business Communications, based in Portland, Maine, provides information and market access through face-to-face events, magazine publishing, and eMedia on four continents. In addition to health care, Diversified serves a number of industries including: technology, retail, food and hospitality and business management solutions. Diversified operates divisions in Australia, Hong Kong, India, the UK and Canada.
###