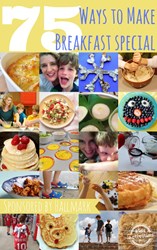 Make breakfast a daily celebration.
Dallas, TX (PRWEB) January 30, 2014
Make breakfast a daily celebration. Over 75 family breakfast ideas and a movie inspired sandwich recipe have been published on Kids Activities Blog. Get ready for fun food that the whole family will enjoy.
The yummy family breakfast ideas include oatmeal breakfast cookies, fun straw toppers for the special Orange Juice straw, a yummy sausage and egg grilled cheese recipe, and an easy to do the night before potato breakfast casserole.
The ideas are all about making it easy on moms. Granola bars are great for on the go breakfasts; a delicious ham and egg casserole recipe on Kids Activities Blog is perfect to feed a whole crowd. This recipe will come in handy especially after a slumber party. The kids will love to wake up to the smell of the yummy casserole.
Have you met Meatbalrus? Meatbalrus is the inspiration for the yummy meatball sandwich featured on Kids Activities Blog. Making the little sandwich balls is easy.
For the bread dough either use the bread machine to mix up a batch of yeast dough or simply purchase ready made pizza dough or refrigerated bread dough. Either one works fine.
For the meatballs and sauce, simply choose the kids favorite flavored meatballs in the frozen section and let them heat up together in the crock pot with the kids favorite spaghetti sauce.
Once the dough and meatballs are ready, separate the dough into small pieces and flatten them about 3 times the diameter of the meatballs. Add a bit of cheese onto the dough, place the meatball inside and gently wrap the meatball with the dough circle.
Bake at 350 degrees for about 12 to 15 minutes and ready is the fun movie inspired lunch. The little meatball sandwiches are great for dinner, lunch, a snack, or even party food. Let the kids have a blast eating magical movie inspired food.
For detailed instructions and to get additional family food ideas, check out Kids Activities Blog this week. Come get inspired to eat yummy magical food that the whole family will enjoy.
About Kids Activities Blog
Kids Activities Blog is a website created by two moms (who collectively have 9 children), Rachel Miller and Holly Homer from June Cleaver Nirvana. It is their daily goal to inspire parents and teachers to play with kids. This interactive website publishes simple things to do with kids twice a day. Kids Activities Blog is a great tool for moms and teachers to find kid-friendly activities that create memories and sneak learning into the fun.