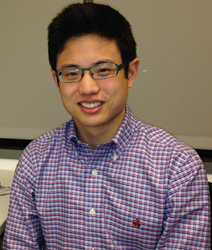 Programs such as the ABTA's Medical Student Summer Fellowship are critical to enable future physicians to delve deeply into scientific pursuits relevant to their future careers. - Terry Burns, MD, PhD
Chicago, IL (PRWEB) January 22, 2014
The American Brain Tumor Association (ABTA) is pleased to announce that Matthew D. Li, second year medical student at Stanford University School of Medicine, is the recipient of the 2013 Lucien Rubinstein Award for his outstanding brain tumor research as an ABTA Medical Student Summer Fellow.
Li, whose research and training experience was conducted under the mentorship of Terry Burns, MD, PhD, and Theo Palmer, PhD, focused his studies on microglia and the chronic side effects of brain radiation therapy. Li was motivated to gain "a better understanding of the molecular mechanisms underpinning the undesired effects of cancer treatments, like radiation therapy, that may help us develop better treatments in the future."
After mentoring Li for the summer, Dr. Burns spoke to the potential that he sees in him as a young investigator.
"Matthew maintains a clear focus on the end goal of our work, which is to not only understand the science, but to develop techniques to diagnose, treat and prevent disease. As such, Matthew is always thinking outside the box about potential clinical applications of our work, and how clinical problems can inform the direction of our research. Matthew is a rare talent who throughout his career will consistently not only use, but improve the best strategies available to advance knowledge and enhance patient care."
Li explained the impact of receiving the Medical Student Summer Fellowship from the ABTA, and how it has motivated him for the future.
"My experience this summer as an ABTA Medical Student Summer Fellow has left a significant impact on me," stated Li. "It taught me countless practical research skills, sharpening my mind, and providing me an eye-opening perspective of the significant side effects of cancer therapies. I plan on pursuing a career in neuro-oncology, and this experience has solidified my motivation to work in this field. I feel much more prepared now to integrate research into my future medical career thanks to the ABTA."
Dr. Burns also acknowledged the importance of the ABTA's funding of young researchers in the brain tumor field.
"Programs such as the ABTA's Medical Student Summer Fellowship are critical to enable future physicians to delve deeply into scientific pursuits relevant to their future careers," said Dr. Burns. "By fostering collaborations between clinicians and scientists, and by training a generation of investigators like Matthew, who have the knowledge, skill and motivation to both treat patients and advance science, challenging diseases can be overcome in the most coordinated and expeditious manner possible."
The ABTA Medical Student Summer Fellowship is a 10-to-12 week laboratory experience designed to attract and motivate young, talented medical students to pursue a career in brain tumor research. Each Summer Fellow is required to submit a report on their experience, and the reports are competitively reviewed by a panel of ABTA Scientific Reviewers. Based on the highest review scores, an "outstanding medical student" is selected to receive the annual ABTA Lucien Rubenstein Award. The award is named in honor of Lucien J. Rubenstein, MD, a professor of neuropathology at the University of Virginia and a world-renowned brain tumor researcher.
Through the funding of early career scientists, the ABTA aims to seed the field with talented, bright young investigators who have the potential to change our understanding of the causes, effects, diagnosis and treatment of brain tumors.
To learn more about the American Brain Tumor Association's research funding programs, visit http://www.abta.org/brain-tumor-research/.
ABOUT THE AMERICAN BRAIN TUMOR ASSOCIATION
Founded in 1973, the American Brain Tumor Association was first and is now the only national organization committed to funding brain tumor research and providing support and education programs for all tumor types and all age groups. For more information, visit http://www.abta.org.
# # #