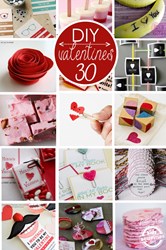 Being crafty and creating thought-filled valentines does not need to require a time investment.
Dallas, Texas (PRWEB) January 25, 2014
Valentines Day is all about sharing love. Quick Valentines and an adorable bumblebee Valentine craft have been published on Kids Activities Blog. The Valentines are perfect for friends and family or to take to school.
Being crafty and creating thought-filled valentines does not need to require a time investment. A laundry list of easy Valentines has been compiled that are easy to make together or for the kids.
The list is divided into Valentine gifts, notes, candies, toys, and snacks. DIY Valentine gifts are easy trinkets to make and pass out to family and friends.
Make food fun and festive with these simple Valentine themed ideas. Easy to do toy Valentines are great for classes. Candy Valentines are a kids favorite.
Creative Valentine Notes are perfect for little readers and for that special teacher who loves a personalized note on Valentines Day.
A homemade bumble bee is the adorable printable Valentine craft featured on Kids Activities Blog. The Bumble Bee features the phrase Bee Mine. The printable makes it easy to cut and glue the adorable little critter. Help the younger kids to cut out the shapes. Older kids may be able to do this part by themselves.
By using a dab of glue here and there, put the pieces of the bee together. Add some googley eyes and a touch of black glitter for the stripes, and the little bee turns into a keepsake masterpiece.
The kids will be amazed at the adorable Valentines that they created all by themselves.
For detailed instructions and to get additional fun ideas, check out Kids Activities Blog this week. Come spread the love with homemade crafts this Valentines Day.
About Kids Activities Blog
Kids Activities Blog is a website created by two moms (who collectively have 9 children), Rachel Miller and Holly Homer from June Cleaver Nirvana. It is their daily goal to inspire parents and teachers to play with kids. This interactive website publishes simple things to do with kids twice a day. Kids Activities Blog is a great tool for moms and teachers to find kid-friendly activities that create memories and sneak learning into the fun.