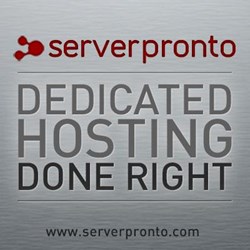 ServerPronto lets you scale your servers and add services as you need them. You pay for what you need—not for what you don't. - Andrew Acosta-Marte, MetalMusicRadio.com
New York, NY (PRWEB) January 27, 2014
As ServerPronto continues its customer service campaign, customers are reporting recent initiatives to drive satisfaction are paying dividends.
One example is MetalMusicRadio.com. Andrew Acosta-Marte, owner of MetalMusicRadio and WebMaker Premium, needed a dedicated server solution that he could rely on to keep Webmaker Premium and MetalMusicRadio.com up and running 24/7/365. Since he hosts client websites, point of sale systems and digital video surveillance archives—and serves up diverse heavy metal music to thousands of listeners every day—downtime is not something he can afford. Acosta-Marte turned to ServerPronto for a cost-effective solution to his dedicated server hosting needs.
"One month I spent almost $1,000 just shipping servers back and forth to FDC Servers in Chicago trying to resolve an issue," said Acosta-Marte. "What I love about ServerPronto is that if I have an issue—even if it's user error—I send in a support ticket and within five minutes it's either solved or someone is working on it. That's unbeatable."
From Acosta-Marte's perspective, ServerPronto may be the best-kept secret in the dedicated server hosting industry. But he's helping to change that. Acosta-Marte's experience—along with the affordability of the dedicated server—causes him to recommend ServerPronto to all his clients.
"One of our best sources of business is word of mouth referrals," said Chris Kurzweg, CEO of ServerPronto, home to he world's most affordable dedicated server and cloud hosting solutions. "It's been said that your customer's success is your success. Entrepreneurs like Andrew illustrate that truth. We're proud to be a part of his success—and he is a part of ours."
The bottom line: Acosta-Marte's businesses are more profitable thanks to ServerPronto. With FDC servers, he spent time and money—and experienced downtime—shipping servers back and forth. Now, he's saving time and money with ServerPronto's affordable rates, which he calls "the best price on the market." In fact, Acosta-Marte figures ServerPronto costs him five times less than other vendors in the market.
"ServerPronto not only has the best prices, the company offers so much for the package price," said Acosta-Marte. "And you have options. ServerPronto lets you scale your servers and add services as you need them. You pay for what you need—not for what you don't."
Click here to read ServerPronto case studies from satisfied customers.
About ServerPronto
ServerPronto currently has customers in 130 nations. ServerPronto, the hosting Subsidiary of Infolink, has been leading a low-cost revolution in the hosting industry since 2003. ServerPronto has broken the price barrier for cloud hosting in secured and reinforced Data Centers with redundant power, lightning fast fiber connections, and 24x7x365 support from a staff with more than 14 years of experience in operating data centers. Learn more at http://www.serverpronto.com.
Contact:
Jennifer LeClaire
info(at)consistentreach(dot)com