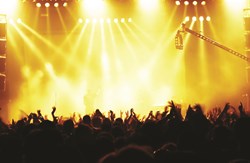 Hotel Belleclaire is the Super Bowl XLVIII headquarters in NYC this year, with so many activities and chances to win football memorabilia, concert tickets and more
New York, NY (PRWEB) January 22, 2014
On February 2, 2014, Super Bowl XLVIII will come to MetLife Stadium in East Rutherford, NJ, just 10 miles from NYC. Hotel Belleclaire, located on the Upper West Side of Manhattan, is offering an array of events and activities, as well as a Super Bowl Contest to celebrate the monumental game.
Super Bowl Activities at Hotel Belleclaire include:

Belleclaire Super Bowl Box Game (begins on Jan. 31st)
Tailgate Beer Tasting (Feb. 2nd between 3pm–6pm)
Tailgate 500 racecar games for families upon arrival (one per family)
Complimentary beer upon arrival and in guest suites
Complimentary gourmet pretzels served by Sigmund NYC (Feb. 2nd between 3pm-6pm)
In addition to these activities, Hotel Belleclaire will host an exclusive NFL player autograph & photo session with Brandon Boykin of the Philadelphia Eagles. As a rookie in 2012, Brandon made an immediate impact as the Eagles' primary kick returner and nickel cornerback. He impressively ranked amongst the NFL's Top 10 returners in returns, return yards, and returns over 20 yards that same year.
Hotel Belleclaire's Super Bowl Box Game will be available for the first 100 check-ins, beginning on Friday January 31st (a number drawn at random will be assigned). Prizes will be awarded at the end of every quarter (prizes to be announced), with 4th quarter being the largest prize; an official NFL jersey autographed by Brandon Boykin and a complimentary two-night stay for a future visit!
Guests are also encouraged to enter the Belleclaire Super Bowl Contest on Facebook, "Share Your Way to NYC," running January 22 to January 27. Win two low-level seats (section 17) at the Big Hello to Brooklyn Concert at Barclays Center, featuring Red Hot Chili Peppers on Saturday, February 1, the night before the big game! The concert is presented by WFAN Sports Radio, an NFL sponsor and supporter. Learn more about this event.
"Hotel Belleclaire is the Super Bowl XLVIII headquarters in NYC this year, with so many activities and chances to win football memorabilia, concert tickets and more," said Scott Geres, General Manager. "The game is just 10 miles away, and for those who don't have tickets, there are multiple bars broadcasting the game nearby and your in-room flat screen is sure to have a great view, too."
Learn more about Super Bowl festivities at Hotel Belleclaire by calling (212) 362-7700.
About Hotel Belleclaire:
Hotel Belleclaire is a member of Triumph Hotel Group, a collection of sophisticated boutique hotels in New York City. The Upper West Side hotel is located in a landmark building designed by Emery Roth in 1903. Hotel Belleclaire boasts 240 guest rooms and suites with an array of deluxe amenities, such as complimentary wireless Internet, C.O. Bigelow amenities, luxurious Frette linens, flat screen HDTV's, and sleek laminate-wood floors. The hotel also offers morning coffee and tea service, 24-hour fitness center access and premier concierge services.