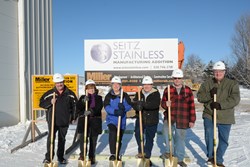 Avon, Minnesota (PRWEB) January 23, 2014
Miller Architects & Builders has broke ground on Seitz Stainless Addition in Avon, MN.
Seitz Stainless, owned by Jeff and Janet Haviland, has been in business over 20 years—based near St. Cloud, Minnesota in the heart of Minnesota's dairy country. The rough terrain that made crop farming so difficult also transformed the area into one of this country's major dairy-producing areas, and as such the area has seen more than its share of stainless equipment. Seitz Stainless has capitalized on that infrastructure providing custom and contract fabrication of stainless and high alloy-based tanks, pressure vessels, heat exchangers, and custom equipment for food, dairy, pharmaceutical, beverage, and semiconductor applications. The Havilands are expanding to fill a need in the market, and to handle larger projects.
The new 12,750 square foot addition is a Butler pre-engineered steel building featuring slab-on-grade construction with infloor heat. The addition will house two, five-ton cranes and one, ten-ton crane. The new addition also includes a loading/unloading dock with five doors, new septic system and restroom upgrades to code compliance.
Miller Architects & Builders is extremely proud to have the opportunity to team with the Jeff and Janet Haviland on this exciting project from architectural services through construction.
Established in 1874, Miller Architects & Builders is one of the Midwest's premier design/build commercial construction firms specializing in commercial construction. Miller Architects & Builders constructs all its facilities using your local labor. Miller Architects & Builders (http://www.millerab.com) is headquartered in St. Cloud, MN