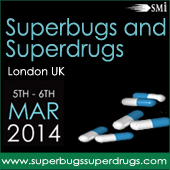 "The Superbugs and Superdrugs conference provides an opportunity to focus everyone's minds on what really matters" - Richard Bergstrom, EFPIA
London, UK (PRWEB UK) 22 January 2014
Last year, the Innovative Medicines Initiative (IMI) launched two new projects through its antimicrobial resistance program, New Drugs for Bad Bugs. These were launched to tackle the growing problem of antimicrobial resistance throughout the EU that is currently the cause of over 25000 deaths in the EU every year and cost the European economy over 1.5billion euro a year.
The EFPIA presentation entitled: The IMI program: Europe's largest PPP, will explore new models for incentives and the controlled use of new antibiotics as well as tackling the problem of insufficient antibacterial R&D in Europe.
"The Superbugs and Superdrugs conference provides an opportunity to focus everyone's minds on what really matters: we absolutely need to find new effective antibiotics... To succeed in fighting Superbugs we must pool everything we know, and be open to new business models."
Richard Bergström, Director General, European Federation of Pharmaceutical Industries and Associations
To see the full speaker line-up visit http://www.superbugssuperdrugs.com.
.
Superbugs and Superdrugs 2014 will aim to:

Discover the latest Public/Private Partnerships to combat antimicrobial resistance both in the US and in Europe
Consider antibody based strategies as a new method to tackle antimicrobial resistance
Discuss the different therapeutic approaches in fighting Clostridium Difficile Infections, Hepatitis C, Pseudomonas aeruginosa infections and Staphylococci infections
Present hot topics which include antimicrobial stewardship, nanoparticulate oligonucleotide antibacterials and alternative models for tackling antimicrobial resistance
For further details visit http://www.superbugssuperdrugs.com.
Superbugs and Superdrugs
5th-6th March 2014
Holiday Inn Regents Park, London UK