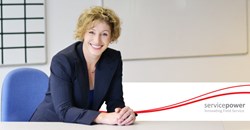 Strong Revenue Growth
McLean, VA (PRWEB) January 23, 2014
ServicePower (AIM: SVR), a market leader in field service management, is pleased to provide an update on trading for the year ended 31 December 2013.
As a result of securing several new contracts and client renewals during the year, ServicePower has experienced strong revenue growth of more than 25% year-on-year to approximately £14.0 million (2012: £11.1 million). The Company expects to achieve gross profit of £6.6m, EBITDA of £0.1 million including exceptional expenses in excess of £0.8 million, and a breakeven net income result including a foreign exchange gain of £0.3 million.
Cash strengthened in the second half of the year due to the contract renewal cycle and increased collection efforts. As such, the Board expects to report a net cash balance of approximately £2.7 million at the year-end (30 June 2013: £2.3 million), following repayment of £0.26 million of the Company's convertible debt in August (£0.37 million including accrued interest). Strong cash collection meant that cash balances increased to £3.4 million as of 17 January 2014.
Marne Martin, CEO of ServicePower plc, commented: "During 2013 we achieved our stated goal of securing a firmer financial footing from which to support ServicePower's continued growth. We have continued to invest in our product portfolio and increase our addressable market through enhanced geographic localisation and broadened functionality. While the deal and salary costs related to the acquisition from Stratix Corporation and the exceptional expenses related to transactions and organisational restructuring during the year did have an impact on profitability, we are pleased with the strong progress the Company made in 2013 and confident that the Company has entered 2014 from a position of strength with a stronger revenue base and improved growth prospects."
Notice of Results
ServicePower will announce Final Results for the year ended 31 December 2013 on 26 March 2013.
For further information, please contact:
ServicePower Technologies Plc
Tel: 0161 476 7762
Marne Martin, CEO
Tajinder Sandhu, Finance Director
FinnCap
Tel: 0207 220 0500
Stuart Andrews
Charlotte Stranner
Newgate Threadneedle
Tel: 020 7653 9850
Caroline Evans-Jones
Fiona Conroy
About ServicePower
ServicePower is the only company that can provide a complete, global field management platform that controls all elements of the service lifecycle from offering an appointment, assigning resource and dispatching work through to tracking resources, processing claims and providing business intelligence and analytical reports. With advanced intelligence-based scheduling, dispatch and open market auction software, as well as access to a global network of 86,000 repair and installation technicians, we enable companies to control and schedule work using a mixed resource pool of employees and independent contractors. ServicePower provides solutions that cross all industries. Current customers include Assurant Solutions, Mitsubishi, Farmers Insurance, and Pitney Bowes.
ServicePower is listed on the AIM market of the London Stock Exchange with the ticker SVR.L. For more information, please visit http://www.servicepower.com.