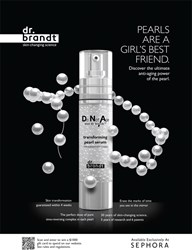 New York, NY (PRWEB) January 24, 2014
Renowned anti-aging skincare leader dr. brandt skincare is launching a national advertising campaign—the first in brand history—to introduce its new Do Not Age (DNA) transforming pearl serum. The full page advertisement will debut across top national magazines and highlight the power of dr. brandt's Duo Pearl technology integral to the DNA transforming pearl serum.
The striking, full-page ad depicts the DNA transforming pearl serum with the playful copy, "Pearls are a girl's best friend." Developed as a universal anti-aging serum, the serum is a painstaking result of five years of research and six patents due to its Duo Pearl technology, an encapsulated form of dr. brandt's exclusive Juvenescence + Complex—a powerhouse of anti-aging ingredients designed to prolong the youth and energy of skin cells. The new serum is poised to become a dr. brandt hero product as a culmination of over 30 years of experience and research of leading cosmetic dermatologist Dr. Brandt.
dr. brandt skincare is further promoting this launch with a sweepstakes in which five random winners will be selected every week from January 31st to February 28th to win the entire Do Not Age collection with full size products. One lucky fan will also win a $1,000 gift card that can be used on drbrandtskincare.com. The ad will feature a URL and a seamless QR code that will allow readers to easily enter into the dr. brandt skincare sweepstakes from smart phones.
About dr. brandt® skincare:
dr. brandt® skincare is based on the vision and direction established by world-renowned celebrity dermatologist, Dr. Fredric Brandt. He has dedicated over 30 years of research, practice and experience as the visionary leader of his Dermatology Research Institute, Dermatology Associates and medical practices in New York & Miami. Dr. Brandt's passion and dedication has led to the creation of innovative, high-potency formulas to reset the clock. Experience skin-changing science, when you take the doctor home with you®.