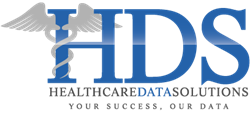 Our new sales directors bring a wealth of experience and we are excited to have them join our growing company.
Irvine, CA (PRWEB) January 22, 2014
Healthcare Data Solutions, a leading provider of healthcare databases, compliance and business intelligence services, announced today the addition of three Sales Directors: Michael Zeichner, Pete Kuz and Wayne Dudley.
Michael Zeichner comes to HDS with over 15 years in the life science industry where he worked with large pharmaceutical clients like Janssen, GlaxoSmithKline and Merck. In addition to Michael's extensive experience in the pharmaceutical and life sciences arenas, his expertise in accountability and compliance are major assets to the HDS sales team.
With 20 years of experience in sales and sales management, Pete Kuz brings to HDS expertise in value-based selling, with a strong focus on identifying customer needs and solving them. He has built a strong reputation throughout his career for successfully selling complex solutions within the banking, manufacturing, technology, healthcare and educational markets.
Wayne Dudley has spent over 15 years working in the healthcare and life sciences industry. Wayne gained experience in customer relationship management (CRM), managed markets, eDetailing and brand liaison while working with one of the largest manufacturers in the pharmaceutical industry. Consistently ranked a top sales person at his previous position, Wayne's intuitive selling techniques are a strong fit for the HDS sales team.
"As the healthcare industry continually changes and the market demands of high quality products and services increase, it was necessary for HDS to grow our sales team," says Mike Lang, Senior Vice President of Sales. "Our new sales directors bring a wealth of experience and we are excited to have them join our growing company."
About Healthcare Data Solutions:
Healthcare Data Solutions is a leading healthcare information services company focused on building and maintaining the most accurate, compliance-grade data on Physicians, Dentists, Nurse Practitioners and other Healthcare Providers, as well as Pharmacies and Hospitals. Healthcare Data Solutions provides healthcare data, physician validation programs, data processing, compliance services, web services and new customer acquisition programs for leading healthcare firms. Compliance clients can access over 5 million healthcare provider profiles to crosswalk government databases for accurate reporting. Healthcare Data Solutions is the fastest growing healthcare data services company in the United States on both the Inc. 5000 and Deloitte Fast 500 list. The recent acquisition of StratCenter has allowed HDS to expand its services to provide best-in-class Healthcare Organizational (HCO) data on Hospitals, IDNs (Integrated Delivery Networks), GPOs (Group Purchasing Organizations), and Non-Acute Care provider entities, as well as the latest industry news. For more information, visit http://www.HealthcareDataSolutions.com.