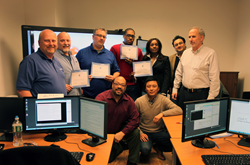 NetCom Learning works very hard to offer the latest in certification coursework and we are proud to be the first Microsoft training partner to provide classes in Microsoft's Configuring Windows 8.1.
New York, NY (PRWEB) January 24, 2014
NetCom Learning recently became the first Microsoft training partner in the world to offer the beta version of Windows 8.1 Microsoft Official Curriculum (MOC) training class which was held the week of January 13th at the company's New York location. Paul Silva, Microsoft Certified Technologist and expert NetCom Learning educator led the class titled Configuring Windows 8.1 (course 20687) which is part of the coursework in preparation for the MCSA certification. Students for the first class included prequalified information technology technicians and information technology professionals from varied backgrounds.
"NetCom Learning works very hard to offer the latest in certification coursework and we are proud to be the first Microsoft training partner to provide classes in Microsoft's Configuring Windows 8.1," said Russell Sarder, CEO of NetCom Learning.
Windows 8.1 which was released on August 27, 2013 is the latest personal computer operating system from Microsoft. The new operating system offers upgraded mobility, improvements to the user experience, improved networking capabilities and new manageability. The new five day course Configuring Windows 8.1 prepares students to setup and configure Windows 8.1. across an enterprise wide network environment. Included in the course is determining requirements for the installation and deployment of Windows 8.1, managing profiles between devices, configuring disks and drivers in Windows 8.1. system, configuring network and resource connectivity, configuring apps and mobile computer settings, and describing and configuring Client Hyper-V. Configuring Windows 8.1 along with Supporting Windows 8.1 are both required exams for MCSA: Windows 8.1 certification. Beginning in January 2014, certification exams and Microsoft Official Courseware (MOC) offerings will be updated with Windows 8.1 and Windows Intune content. NetCom Learning is offering the new course Configuring Windows 8.1 in a variety of training delivery methods including classroom training, Live Online training (LOT), private onsite training, private one-on-one training and in concentrated boot camps. Upcoming trainings in Configuring Windows 8.1 are available on a nationwide basis. For scheduling, go to: http://www.netcomlearning.com/packages/206888/MCSA-Windows-8-Windows-8.1-Update-training.html.
Instructor
The instructor for the first Configuring Windows 8.1 course 20687 was led by Paul Silva. Paul has an extensive background in the installation, configuration, troubleshooting and administration of networks for corporate clients both large and small. He is also an experienced trainer, educator and public speaker for NetCom Learning and previously for Microsoft Education Centers, Microsoft Partners, Global Knowledge and Burlington Country College. Paul holds a variety of professional certifications including Microsoft Certified Technologist, Microsoft Certified Trainer, Microsoft Certified Systems Engineer and Microsoft Certified Systems Administrator. He was awarded the prestigious top ten Five Star Top Gun Trainers by Microsoft Corporation.
Benefits of Certification
The benefits of earning the MCSA certifications are many. Holding one of the most popular certifications with a specialty in the hottest area of information technology gives the certification holder a major advantage when it comes to employment. Currently there is a skills gap in the information technology field, and holders of major IT certifications are being sought out for hiring. In a recent survey of IT professionals, sixty percent stated that getting an IT certification led to a new job. Organizations also benefit from having their employees certified with current certifications. Certified employees means employees with the right skills to do the job and it can also increase sales by being able to prove to prospective clients that the organization has the skills to supports its claims.
Benefits of taking MCSA training with NetCom Learning
NetCom Learning is the most trusted name in both business and IT training and offers top notch instructors with an average of 16 years of experience and vendor approved coursework offering certification preparation for a variety of vendor certifications. NetCom Learning is a Microsoft Gold Certified Partner for Learning Solutions (CPLS). CPLS is the premier training channel and delivery mechanism for Microsoft training content. NetCom was honored by Microsoft as the 2007 Worldwide Partner of the Year for Learning Solutions. Selected as the Number One CPLS from over 1400 worldwide CPLSs, Microsoft recognized our commitment and ability to deliver high-quality learning services using a consultative engagement model. Successful candidates for are awarded Certificate of Completion directly from Microsoft for most of the courses.
NetCom Learning instructors who routinely achieve high ratings from their students possess an average of 16 years of experience and a cumulative average of more than 10,500 years' experience in the field of their expertise. Instructors carry an average instructor evaluation of 8.6 out of 9, one of the highest instructor evaluations in the industry. The high quality of training has resulted in over 1,700 testimonials and a 96% customer satisfaction rate with those customers indicating they would recommend NetCom Learning to others.
For more information on Microsoft the MCSA coursework on Windows 8.1, visit: http://www.netcomlearning.com/products/203/Microsoft-Windows-8-training.html or for more information, contact us at info(at)netcomlearning(dot)com or call 1-888-563-8266 to speak to a NetCom Learning Consultant.
About NetCom Learning
NetCom Learning is an innovative leader in IT, business and executive training to companies, individuals, and government agencies. Since its inception in 1998, NetCom Learning has trained over 80 percent of the Fortune 100, serviced over 45,500 business customers, and advanced the skills of more than 71,000 professionals through hands-on, expert-led training, with the organization maintaining an average instructor evaluation score of 8.6 out of 9. NetCom Learning was recognized by Microsoft Corporation as its Worldwide Training Partner of the Year and named thrice to Inc. Magazine's list of fastest growing private companies in America. The organization was also recently named to the 2012 Top 20 IT Training Companies by TrainingIndustry.com and was named "Company of the Year" by the American Business Awards.
The purpose of NetCom Learning is to promote the values of lifelong learning.