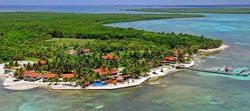 Beauty by Belize - Luxury by Design
Placencia, Belize (PRWEB) January 28, 2014
Larry France, Marketing Manager of Chabil Mar Resort, announces four new Belize Vacation Packages. "We are so pleased to partner with Turneffe Resort to bring these wonderful ECO, Fishing and Scuba Diving Packages to market. Turneffe Flats, home of Turneffe Resort, has been known as one of the Caribbean's finest saltwater fly fishing, Scuba diving and marine ecotourism destinations, while miles of natural sandy beach, a virgin mangrove–fringed lagoon, a wonderland of coral–studded cayes just off-shore, nearby jungle rivers (home to the howler monkey), pristine rainforests, Garifuna, Creole and Maya cultures blend with ancient ruins, all within a short tour away, making Placencia, home of Chabil Mar Resort, the ideal location for the adventure traveler."
"In addition, both of our Resorts have been recently named as two of the Top Small Hotels in Central America in the 2013 Traveler's Choice Awards by Trip Advisor and have been awarded with multiple service recognitions and accolades, providing out guests with first class amenities and service during their Belize adventure."
"The Turneffe Atoll and Placencia Village vacations packages include 7 nights at Turneffe Flats and Chabil Mar Resorts, 3 nights at one and 4 nights at the other, our guests choose. Options include the Fishing Package, the Dive Vacation Package and the ECO - Atoll and Mainland Package or, for the group that includes guests who have different interests, we will customize a package for them that includes some of each of the specialty packages."
"These diverse vacation packages are available immediately, through December 14, 2014.