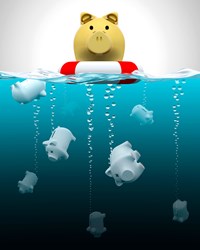 "Safe Money Resource is just what the name states: a free resource to help people keep their retirement investments safe and sound. And experts agree, the best decision is to consult with an independent financial advisor.
Cherry Hill, NJ (PRWEB) January 28, 2014
A mindset shift is needed for Americans to get the most out of their retirement investments, according to studies from the University of Michigan and Pennsylvania State University. These studies show that, despite the fact that annuities provide a safe way to guarantee retirees cannot outlive their income, investors remain fearful. Wealth Planner Brent Meyer's Safe Money Resource website, http://www.safemoney.com, has added new content with the goal of helping people planning for retirement educate themselves and overcome the fears that may stop them from making better investment decisions.
"Some investors are scared off by annuities because they are sold by insurance companies, and people don't trust insurance companies," Meyer explained. "That's why financial planners agree that it's a good idea to seek advice from an independent financial advisor, someone who is not captive to one insurance company. Helping investors determine which annuity products are the best for their needs, and providing contact information for independent, qualified financial professionals across the country is the goal of safemoney.com."
The University of Michigan Retirement Research Center study, authored by Wolfram J. Horneff and Raimond H. Maurer, shows that understanding the difference between annuity products is challenging, so people may shy away from one of their only sources of guaranteed lifetime income. Consulting an independent financial advisor before investing is the course of action recommended. The study report is available at http://www.mrrc.isr.umich.edu/publications/papers/pdf/wp178.pdf,
"By adding an 'Income Benefit Rider,' annuity purchasers can choose to receive a minimum lifetime income regardless of how the annuity investments perform, and without having to 'annuitize," or give up access to the principal," said Meyer. Annuitization, Meyer explained, is transforming a lump sum premium – or in the case of an existing annuity, the account value – into a stream of irrevocable income. Payments can be set up so they continue to a beneficiary – usually a spouse – after the original recipient dies, or for a minimum number of years, or both.
"Understanding annuities is challenging, so I've written a guide to make it easier for people to determine which product is right for them. It's called 'Annuity Guide To Better Decisions' and it's available free at http://safemoney.com/free-guide/annuity-guide-to-better-decisions," said Meyer. "It is important to determine the pros and cons of an annuity before you invest. In today's world, an annuity can offer more stability in your retirement. It will provide a hedge against inflation, principal protection, and can offer you the opportunity of a guaranteed lifetime income."
The e-book guide is just one part of Safe Money Resource's goal of helping people make smarter choices when investing for their retirement. The website was founded in 2012 with the main objective of providing sound advice through a network of trustworthy financial advisors who have their clients' best interests at heart.
"Safe Money Resource is just what the name states: a free resource to help people keep their retirement investments safe and sound," said Meyer. "And experts agree, it's a wise decision to consult an independent financial advisor – someone who does not work for an insurance company - before making decisions that will affect you the rest of your life."
Search information and articles written by some of the top independent financial professionals in America at safemoney.com.
ABOUT SAFE MONEY RESOURCE
Safe Money Resource is a much-needed resource for the Baby-Boomer generation of retirees and is comprised of independent agents who are defined by their integrity, knowledge and ethics. Safe Money Resource operates on the belief that education is empowerment.