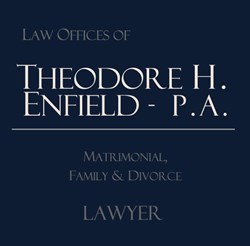 MIAMI, FL (PRWEB) January 24, 2014
When domestic violence enters a relationship, everything changes. According to the state of Florida, since domestic violence is considered a criminal act, the perpetrator is automatically treated as a suspected criminal, and is not entitled to bond until they appear before a judge. This is to protect the alleged victims in cases like this.
Miami divorce attorney Theodore Enfield, now provides legal counsel for cases involving domestic violence. These cases usually involve divorce, and when violence is involved, divorce is usually easy to secure. The state's priority is the safety and well-being of the family involved.
In many cases, when divorce is necessary, legal counsel is especially essential. Family law attorneys like Theodore Enfield ensure level-headed, emotionally detached and logical counsel based on the law rather than on relationships, which enables fair proceedings to take place.
Sometimes, annulment is the best path for ending a marriage that involves domestic violence or abuse. If potential clients are willing to share the facts of their situation, lawyers like Theodore Enfield can represent them effectively, and even help their case by arguing for Florida alimony (similar to child support, but taxable) or for settlement payment/damages. Other reasons for marriage annulment include fraud, incest, bigamy, impotence, lack of consent, mental illness or insanity, and the influence of drugs or alcohol.
A plea involving domestic violence requires that the offender enter into and complete family violence counseling classes, which can take around six months. Sentencing may include no contact with victims, alcohol/substance abuse screening and treatment, psychological evaluation, and recompensation for damages suffered.
Domestic violence/abuse in Florida is a serious offense, and can carry a sentence of up to 15 years in prison.
As divorce lawyers in Miami go, Theodore Enfield stands apart in that he provides assurance, goodwill, and trustworthy legal counsel for people seeking a professional to represent their case before the courts of Florida.
The following are some, but not all, of the most important factors Florida courts consider in making a decision on a divorce case: the ethics of the husband and wife involved; the health, both mental and physical, of both parties; the finances and any agreements made thereto; any abuse, whether physical, emotional, sexual or otherwise (regardless of whether or not a case regarding those circumstances has ever been brought forward before).
Theodore Enfield's website can be found at theodoreenfield.com. He can be called for a free consultation at 305-933-9592 or 1(800) 733-5299.