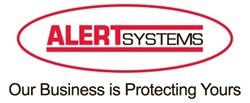 The clearer images acquired can better lead police and authorities to their desired targets, catch criminals and track down potential witnesses
(PRWEB UK) 22 January 2014
As reported in an article from The Derbyshire Times published on January 19th, a reveller involved in an alleged incident in Chesterfield town centre was tracked down by police using CCTV footage of the area. On the night in question, the man was initially asked by police to leave the area following an incident in a church yard. CCTV monitors then tracked the man from the church to a nearby bar, from where he was then ejected. By staying in the town centre, the man was abusing the initial dispersal order.
Business security specialists, AlertSystems, have responded to this news and are eager to highlight the role of CCTV cameras in resolving the issue. A spokesperson for the company said:
"Without the use of CCTV cameras in the area, ongoing incidents like this could not be resolved as efficiently, and having multiple cameras across the area in question meant that the alleged reveller could be tracked through town and into the various establishments he subsequently entered. This just highlights the importance of security systems such as CCTV cameras in not just preventing incidents, but also catching up with those thought to be involved after the event.
"With high quality CCTV footage gained through HD CCTV cameras such as those sold by AlertSystems, the clearer images acquired can better lead police and authorities to their desired targets, catch criminals and track down potential witnesses. All of this leads to improved safety in any particular area, and CCTV cameras or other commercial security systems for businesses are especially effective in town centres such as Chesterfield or any other area where incidents are known to occur."
AlertSystems manage and maintain over 5000 security installations throughout the UK and are specialists in providing business security solutions. Offering professional service and a complete range of security services such as monitored alarm systems, Automatic Number Plate Recognition and Avigilon CCTV security systems. AlertSystems offers effective and reliable solutions to security problems.