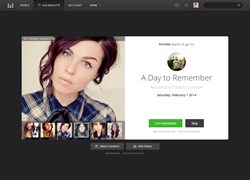 For the first time it's possible to find someone to go with to that unmissable concert.
London, UK (PRWEB UK) 23 January 2014
Social discovery service Tastebuds today announces the global launch of their unique new feature Gig Roulette to help music fans find concert buddies.
To get started a user simply connects their Facebook account to import their photos and music likes. The game instantly displays a concert nearby together with someone they might like to go with. The user chooses whether or not they'd like to go or hits pass. These decisions are not revealed until two users want to go together. At that point both people are alerted of the match and can arrange to meet up via private message.
"The feature was developed after we heard from many music fans who wanted to attend concerts but were put off going on their own," explains Tastebuds founder Alex Parish.
Gig Roulette intelligently selects concerts you may like based on your music taste and ticket availability but it can also be used to find a partner for a specific concert. "For the first time it's possible to find someone to go with to that unmissable concert. Maybe you'll even meet someone special as music is a great connector," added Parish.
The website is now live at http://tastebuds.fm/gigroulette.
About Tastebuds
Tastebuds is a social network that helps you meet new people through music. Founders Alex Parish and Julian Keenaghan first met playing in London-based band Years of Rice and Salt and developed the service to meet like-minded people. The site has users in over 100 countries with 200,000 messages sent between music lovers every day.
Further Information
For more information, high-res images, or to arrange interviews with Tastebuds staff or users, please email alex(at)tastebuds(dot)fm.
Screenshots of the Gig Roulette feature can be download at https://www.dropbox.com/s/oybsjqy5intnj6a/gigroulette.zip.
Follow the site on Twitter @tastebuds.