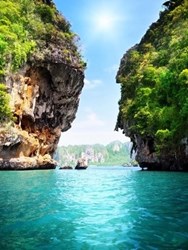 Indeed, the tropical climate and abundance of stunning beaches makes Krabi the ideal destination for a relaxing beach holiday.
(PRWEB) January 24, 2014
The New York Times is an extremely prestigious periodical. The newspaper has been continuously published since September, 1851, and it is the largest metropolitan newspaper in the US. Its distinguished style of journalism has led to the newspaper collecting 112 Pulitzer Prizes, which is an acclaimed award for achievements in newspaper and online journalism in the US. Naturally, recognition from a periodical of this stature is a significant step for the tourism industry in Krabi.
The newspaper's website is one of the US's most popular news sites, and it receives millions of visits each month. The website's travel page has produced an annual travel destination article for some years, and it has become an influential selection of the best holiday locations available. It's not surprising that Krabi has been featured in the article this year, the province's potential for tourism has been steadily increasing due to its superb selection of beaches, dramatic coastline and unspoilt natural beauty. Indeed, the tropical climate and abundance of stunning beaches makes Krabi the ideal destination for a relaxing beach holiday.
Krabi's diverse range of attractions will also interest those holidaymakers seeking an activity holiday. For instance, those interested in rock climbing will find that Krabi has many limestone cliffs that will delight both experienced climbers and beginners taking up this invigorating sport. The area also has a number of established rock climbing schools to help beginners develop their skills. Krabi's location on the Andaman coast also provides many excellent areas for diving and snorkelling. Its diving sites are swarming with marine life, including hard and soft corals, colourful sea fans, and a diverse range of reef fish. Once again, there are opportunities to develop new skills with local diving centres by training for the PADI Open Water Diver Course, an entry level certification for scuba diving.
Receiving such recognition from The New York Times is exciting news for Krabi Riviera. The company, which manages a portfolio of exceptional holiday villas in the Ao Nang area, is a key contributor to the success of the tourism industry in Krabi, and prides itself in delivering the highest standards in customer service to all its guests. What's more, Ao Nang has so much to offer holidaymakers due to its outstanding beach and stunning scenery, and the town also boasts an excellent range of restaurants and bars.
With its natural beauty and prime location beside the Andaman Sea, the stunning province of Krabi deserves its recognition from The New York Times, and those wishing to visit the province in 2014 won't fail to be delighted by its many attractions.