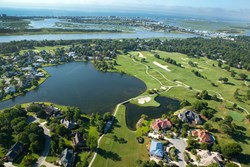 2014 Bliss Award Winner - North Carolina Community of the Year
Wilmington, North Carolina (PRWEB) January 23, 2014
Hidden behind a white French Country-style privacy wall, it would be natural to think, "there's another pretentious country club" yet after reading over 100 heartfelt property owner reviews, Real Estate Scorecard discovered the exact opposite. Landfall in Wilmington is close knit community who enjoys each other's company and the coastal paradise they live in. Families of all ages reside at Landfall and their compassionate hearts reach beyond the walls of their neighborhood. Club members founded the Landfall Foundation in 1995 and have awarded more than $2.5 million dollars to local non-profits.
Property owners describe Landfall as a place where "People come from all over the country and it's great to have the diversity. We also are a very caring community with lots of support for any problem that arises. The winters are mild. The ocean is near by and the southern hospitality is wonderful." Another property owner states, "The world is at our fingertips just outside our gates," and another says, "You get a wonderful feeling with the natural beauty once you enter Landfall. It is infectious!" Visitors can read all 114 verified property owner reviews on Real Estate Scorecard's website on the bottom of Landfall's Community Review page.
Real Estate Scorecard believes Landfall's location is the envy of all Wilmington master-planned communities and here's why:
The white sandy beaches of Wrightsville Beach are 4 miles to the east.
Mayfair Town Center, voted Best Shopping Center 6 years in a row, is located 3 miles from the gated entrance.
The Cape Fear waterfront hugging downtown is less than 10 miles to the southwest.
In 2001, Forbes Magazine named Landfall Country Club Wilmington's Best Address in the ranking of Best Places to Live. This North Carolina coastal community has incredible curb appeal. The community's meticulously maintained common areas and flower filled yards could jump off the pages of Southern Living Magazine.
Homes overlook the marsh, Intracoastal Waterway or one of two championship golf courses. Sidewalks and streets are alive with joggers, dog walkers and children riding their bikes. Amenities include 13 tennis courts and a bustling Sports Center with an array of wellness amenities. Homes begin in the $400k's and can easily exceed $3 million along the Intracoastal Waterway.
Landfall has done an excellent job of keeping property owners happy for over two decades. Real Estate Scorecard applauds their excellence and outreach to the local community.
ABOUT REAL ESTATE SCORECARD BLISS AWARDS™:
After visiting 241 master-planned communities in the Southeast, only 140 or 58% have made 'the cut' as of 2014 and are worthy of being included on Real Estate Scorecard's 'best list'.
Bliss Awards are presented annually to the best master-planned communities we find in Florida, Georgia, The Carolina's and Tennessee. All 140 communities were given an equal opportunity to participate in the Happiest Community of the Year™ voting process. Through the Bliss Awards, readers learn about the friendliest neighborhoods, most relaxing places to live, communities with superior amenities and attributes that make them special.
Over 2,400 verified property owner reviews on Real Estate Scorecard's website have been temporarily 'unlocked' - reviews they considered before determining their winners. The fourteen Bliss Awards™ are selected by category:
Happiest Community of the Year™
By State - in Florida, Georgia, North Carolina, South Carolina and Tennessee
By Lifestyle - Beach, Boating, Golf, Mountain, Lake, Tennis, and Equestrian
Best Community Spirit
This year, Real Estate Scorecard added a new category for Best Community Spirit after a newcomer made the competition tougher.
To see all fourteen 2014 Bliss Awards winners, visit:
http://realestatescorecard.com/news/real-estate-news/national/best-community-year-2014-bliss-awards.