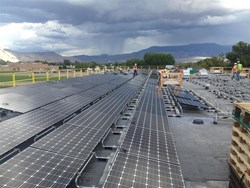 Marcel Arsenault - 'We want to be responsible corporate citizens, and we're looking to expand our solar footprint by another $10 million in 2014 to exemplify our commitment to good business practices and ecological sustainability.'
Louisville, CO (PRWEB) January 24, 2014
As part of its continued efforts to strengthen the world's renewable energy resources, Real Capital Solar, an affiliate of Real Capital Solutions, has expanded its solar power operations throughout 2013.
Through collaboration with Namaste Solar, the company has helped build and finance a total of 1.55 MW of solar facilities for clients located throughout Colorado. The 1.55 MW portfolio is comprised of a 336 KW system at Peak to Peak Charter School in Lafayette; a 345 KW system at Kaiser Foundation's Wheat Ridge site; and four solar facilities totaling 869 KW for Mesa County Valley School District 51. These facilities will expand the company's renewable portfolio, which also includes a 169 kW solar system at its home office in Louisville, CO, as well as a 10.5 MW wind farm located in Idaho.
These solar installments will provide power to over 5,000 students as well as the personnel located at Kaiser's medical office building in Wheat Ridge. The successful development, construction and financing of each project is a clear demonstration that solar is a viable business that will lead to a more sustainable future – a future in which renewable energy resources are seamlessly integrated into daily life. As Real Capital Solution's founder and CEO Marcel Arsenault says, "We want to be responsible corporate citizens, and we're looking to expand our solar footprint by another $10 million in 2014 to exemplify our commitment to good business practices and ecological sustainability."
As a result of the expansion, in 2014 Real Capital Solar will generate 2,580 MWh of renewable energy, offsetting 3,461,220 pounds of carbon from CO2 emissions, which is equivalent to 51,660 trees cleansing the air for one year, or eliminating the emissions from the burning of 178,413 gallons of gasoline.
About Real Capital Solutions, Inc.
Real Capital Solutions, Inc. (RCS) is a commercial real estate company involved in the acquisition and sale of commercial and residential real estate. Its founder and CEO, Marcel J.C. Arsenault, uses RCS's resources and position within the industry to help lead the way towards a sustainable future. In addition to its involvement with solar through its affiliate, Real Capital Solar, RCS has eliminated the CO2 footprint of its employees through a tree planting program benefitting Somalian tree farmers and bee-keepers. -- http://www.realcapitalsolutions.com
About Namaste Solar
Since its founding in 2005, Namasté Solar has developed a reputation for being one the nation's top design/build solar integrators. An employee-owned company, Namasté Solar is proud to have one of the highest concentrations of NABCEP Certified Solar PV Installers of any Colorado solar integrator. It is frequently called upon to develop creative new approaches to challenging technical problems and to lead collaborative partnerships on large-scale solar installations. The company builds both residential and commercial solar systems and so far has installed over 25MW of solar PV in Colorado and around the country. -- http://www.namastesolar.com