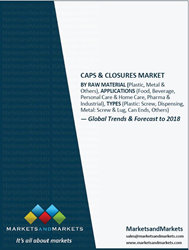 Rockville, MD (PRWEB) March 13, 2014
Caps & Closures Market by Raw Material (Plastic, Metal & Others), Applications (Food, Beverage, Personal Care & Home Care, Pharma & Industrial), Types (Plastic: Screw, Dispensing, Metal: Screw & Lug, Can Ends, Others) - Global Trends & Forecast to 2018
The primary factor driving the growth of caps & closures market is their direct relation growing to the downstream industries such as food & beverage, personal & home care, pharmaceutical, and industrial chemicals. This report estimates the market size of the caps & closures market in terms of value and volume. Food, beverage, personal & home care products, pharmaceutical, and industrial chemical industries are the end-user applications for caps & closures. In terms of geography, the report is segmented into Asia-Pacific, Europe, North America, and Rest of the World (ROW). The caps & closures market is broadly divided on the basis of raw materials used, such as plastics, metals, and others. With the increasing penchant for user-friendliness, the market is likely to witness robust growth in the years ahead.
Caps & closures is an imperative segment of the packaging industry as it aids in protecting and extending the shelf-life of end-products. In terms of end-use, beverages remain the leading market for caps & closures. The pharmaceutical market is set to exhibit the strongest unit volume increases, followed by personal & household care products. Functional & light weight closures such as child-resistant, tamper evident, and dispensing caps which offer efficient dosing, will stimulate the growth in these markets. On the other hand, the growing usage of simplified packaging formats without closures and blister packaging will act as key restraints hindering the growth of the market.
The companies enjoying substantial market share are Berry Plastics Corporation (U.S.), Bericap (Germany), Global Closure Systems (France), Crown Holdings (U.S.), Silgan Holdings (U.S.), and Reynolds Group Holdings (New Zealand). The key industry players are increasing their business presence by launching novel caps for different pack types and by mergers and acquisitions in latent markets. Top six players in the caps & closures industry held a market share of around 17.5% signifying participation of a large number of players in this market. This fragmented industry structure is primarily due to the availability of number of pack types, sizes and raw materials used for caps & closures.
To order this report:
Caps & Closures Market by Raw Material (Plastic, Metal & Others), Applications (Food, Beverage, Personal Care & Home Care, Pharma & Industrial), Types (Plastic: Screw, Dispensing, Metal: Screw & Lug, Can Ends, Others) - Global Trends & Forecast to 2018
Contact: Shauna
800.298.5699
Customerservice(at)marketresearch(dot)com
MarketsandMarkets
The MarketsandMarkets edge: Worldwide, market research reports are primarily sold for numbers, market segmentation and competitive landscape, within the business leaders. The analyst working with MarketsandMarkets come from the renowned publishing houses and market research firms globally adding their expertise and domain understanding.
About MarketResearch.com
MarketResearch.com is the leading provider of global market intelligence products and services. With research reports from more than 720 top consulting and advisory firms, MarketResearch.com offers instant online access to the world's most extensive database of expert insights on global industries, companies, products, and trends. Moreover, MarketResearch.com's Research Specialists have in-depth knowledge of the publishers and the various types of reports in their respective industries and are ready to provide research assistance.
Follow us on Facebook: http://www.facebook.com/marketresearchdotcom.
Follow us on Twitter: http://www.twitter.com/marketresearch_.
Caps & Closures Market by Raw Material (Plastic, Metal & Others), Applications (Food, Beverage, Personal Care & Home Care, Pharma & Industrial), Types (Plastic: Screw, Dispensing, Metal: Screw & Lug, Can Ends, Others) - Global Trends & Forecast to 2018 - Table of Contents:
1 Introduction
2 Executive Summary
3 Market Overview
4 Industry Analysis
5 Caps & Closures Addressable Markets
6 Caps & Closures: Key Market Data
7 Food Caps & Closures Market
8 Beverage Caps & Closures Market
9 Pharmaceutical Caps & Clousres Market
10 Personal & Home Care Caps & Closures Market
11 Industrial: Caps & Closures Market
12 Competitive Landscape
12.1 Introduction
12.2 Most Preferred Strategy – New Product Launches/Development
12.3 Mergers & Acquisitions
12.4 Agreements, Partnerships, Collaborations & Joint Ventures
12.5 New Product Launches/Developments
12.6 Expansions & Investments
13 Company Profiles (Overview, Financial*, Products & Services, Strategy, And Developments)