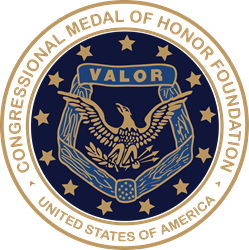 "This marvelous grant from Boeing is an investment in the education and character development of America's future leaders."
Washington, DC (PRWEB) January 22, 2014
The Congressional Medal of Honor Foundation (CMOHF) today announced that Boeing [NYSE:BA] has committed $3 million dollars to support the Foundation's Citizen Honors program and education outreach, including expanding the reach of the Medal of Honor Character Development Program.
"This marvelous grant from Boeing is an investment in the education and character development of America's future leaders," said Thomas L. Wilkerson, CMOHF President and CEO. "It's also a tribute to the important role the Congressional Medal of Honor Foundation plays in perpetuating the legacy of courage, sacrifice and patriotism so clearly represented by Medal of Honor Recipients."
The Medal of Honor Character Development Program incorporates the ideals of courage and selfless service into middle and high school curriculum to build character and promote responsible citizenship.
"Medal of Honor recipients are exemplary models of our country's core values," said Dennis A. Muilenburg, Boeing vice chairman, president, chief operating officer, and member of the CMOHF Board of Directors. "It's a privilege to support their foundation's commitment to veterans and military members. We believe the values that these true American heroes have demonstrated are more important than ever not only to our young people, the leaders of tomorrow, but to all Americans."
Boeing has been a valued supporter of the Foundation since its inception in 1999. The corporation will become the presenting sponsor of the Congressional Medal of Honor Society Citizen Honors Program.
ABOUT THE CONGRESSIONAL MEDAL OF HONOR FOUNDATION –
The Congressional Medal of Honor Foundation was founded by the Congressional Medal of Honor Society, which consists exclusively of the living Medal of Honor recipients. The Foundation is an IRS 501(c)(3) nonprofit with Tax ID #25-1828488.
The Foundation, in conjunction with the Congressional Medal of Honor Society, reaches out to the citizens of America, particularly its youth, to promote an awareness of what the Medal of Honor represents and how ordinary Americans through courage, sacrifice, selfless service and patriotism can challenge fate and change the course of history.
There are no better ambassadors to take this message to the American people than the Medal of Honor recipients themselves who embody these values through their incredible acts of bravery. The work of the Foundation is aimed at promoting awareness of what America's highest military award for valor in combat represents.
Visit us at http://www.cmohfoundation.org. To see the Foundation's educational website, go to http://www.cmohedu.org.