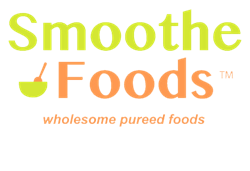 'With the aging population, it is more important than ever to create awareness and education about swallowing issues for professionals and family member caregivers alike,' said Founder Karen Betz, in reference to the recent conferences and discussions host
Huntington, NY (PRWEB) January 24, 2014
Smoothe Foods (Link: http://www.smoothefoods.com/), a leading soft and pureed food distributor, recently attended the American Speech-Language Hearing Association (ASHA) on line conference as an invited sponsor, which hosted more than 600 present attendees.
ASHA (http://www.asha.org/) is the leading organization for speech - language pathologists and other communication professionals, and its recent conference discussed the leading studies and teaching techniques focused on dysphagia for speech pathologists interested in hot topics and methods trending within the industry. In addition, during the conference, the three most important seminars pertaining to the most updated information about dysphagia, as well as related foods of nutritional importance, included:

Balancing Risks in Diet Selection
Make the Most of Mealtime: Compensating for Sensory Impairment
Nutrition Care and Dysphagia in the Geriatric Patient
"With the aging population, it is more important than ever to create awareness and education about swallowing issues for professionals and family member caregivers alike," said Founder Karen Betz, in reference to the recent conferences and discussions hosted by the ASHA.
In particular, Betz of Smoothe Foods poses as an authority within the dysphagia industry, because Smoothe Foods caters to those who have medical conditions with its line of pureed and soft foods that are easy to swallow, as well as that are nutritional. Menu items (http://www.smoothefoods.com/menu.html) include the favorite potato mushroom soup, spinach lasagna, traditional Italian classic -- pasta with tomatoes and basil, and more. All hungry-goers have to do is heat and eat them; and then, rest easy knowing that their meals are packed with vitamins and nutrients, and are not bulked up with fillers like most other leading brands.
Further, meals such as these make it easy for people with eating restrictions like dysphagia or the elderly to eat with confidence and join group settings, such as birthdays, anniversary dinners, work events, and more. Smoothe Foods are available as soft, pureed, making them easy to swallow, while offering the same gourmet taste as most traditional restaurant-quality meals.
For more information about dysphagia, smooth and pureed foods, and Smoothe Foods, visit http://www.smoothefoods.com.
About Smoothe Foods
Smoothe Foods is a line of soft and pureed menu items that are all natural, nutritious, and great tasting. The company ships nationwide, directly to the home as well as institutions. Smoothe Foods focuses on providing gourmet meals that are preservative-free and filler-free to help those with special dietary needs meet and maintain daily dietary allowances.
For more information, visit http://www.smoothefoods.com, or call (631) 424-4005 or email info(at)smoothefoods(dot)com.