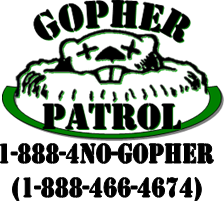 Same Day Service Now Available in Riverside
Riverside, CA (PRWEB) January 23, 2014
Gopher Patrol recently announced that same day service is now available for new customers in the city of Riverside. Time is critical when dealing with gophers. Within a matter of hours a gopher can cause extensive damage to your lawn. "We saw that there was a serious concern in the city of Riverside with gophers," states Richard Hernandez, Service Manager at Gopher Patrol, "so we knew we had to take action." Finding a experienced gopher exterminator is not an easy task, getting them out quickly is even more difficult. Gopher Patrol saw that Riverside was in urgent need of quick service and set out to help by making same day service a possibility in Riverside. Gopher Control has become a serious concern in Riverside. Gophers can cause damage to properties, undermine foundations and cause serious damage to hillsides and slopes. Gopher Patrol has been serving Southern California for over 17 years and recently won the Angie's List Super Service Award for the 2nd year straight in the Animal Control category and won their first Angie's List Super Service Award in the Pest Control/Extermination category. "We make every effort to get out the same day, and in most cases we can if contacted early enough in the day. If we can't make it, we will definitely be out the very next day. Less than 24 hours from the time of the call is our goal, and so far we have been able to make that goal, and our customers are very happy that we can do that now," states Richard.
Gopher Patrol has been under the same ownership since 1996 when they opened for business. They are fully licensed and all their technicians are licensed and registered with the DOJ. For more information on how Gopher Patrol can help you can visit their website at gopherpatrol.com or you can fill out their schedule and appointment form online and a Gopher Patrol representative can get back to you same day. Gopher Patrol is available Monday-Friday from 8am-5pm and on Saturdays from 9am-2pm. You can reach them at 1-888-466-4674 or locally at 1-951-689-8200.
Gopher control has been Gopher Patrols main business for their 17 years in service. Most of the methods and treatment schedules we're perfected by Gopher Patrol. "17 years ago you couldn't find a company that knew how to treat for gophers," Richard states, "We saw a serious need for gopher control and took the challenge, now we see another challenge, same day service, and happily take that challenge too."