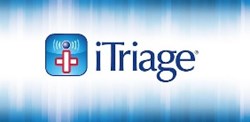 "Choosing Wisely content on iTriage now offers both patients and providers a way to bridge this communication gap," said Dr. Wayne Guerra, co-founder and Chief Medical Officer of iTriage.
NEW YORK and DENVER (PRWEB) January 22, 2014
Consumer Reports and iTriage®, a market leader in consumer health care technology, today announced a partnership to make the ABIM Foundation's "Choosing Wisely" initiative available to millions of iTriage consumers across the country. "Choosing Wisely" decision aids will be available on iTriage's web and mobile platforms to help patients participate more effectively in their health care.
The ABIM Foundation started the "Choosing Wisely" campaign to educate patients about tests and procedures whose potential benefits and risks vary from patient to patient. In partnership with more than 50 professional medical societies, the ABIM Foundation published lists of "Things Physicians and Patients Should Question." These lists are comprised of "Choosing Wisely" content, which are evidence-based recommendations developed by each individual medical society participating that should be discussed together to help make informed decisions about the most appropriate care based on a patient's individual situation.
Consumer Reports, the nation's leading independent, non-profit consumer organization, has also joined the Choosing Wisely campaign to provide information for consumers and physicians to engage in these important conversations. Consumer Reports is creating consumer materials, and coordinating consumer-oriented organizations to help disseminate information and educate patients on making wise decisions.
In providing these decision aids, Consumer Reports and three initial specialty societies seek to help patients make more informed health care decisions, cut down on over-utilization of the health care system, and decrease waste and patient harm. More societies are expected to join in the near future.
Health literacy rates in the U.S. are abysmally low and the majority of Americans need much more information that is simple, clear and understandable to make informed health care decisions. Lack of shared decision making and evidence based medicine have led to undesirable patient outcomes, unnecessary or even harmful tests and procedures performed partly attributing to the $750 billion in wasted health care spending calculated by the Institute of Medicine.
"Patients often struggle to understand whether a test or procedure is necessary, or why their doctor recommends it. Including the 'Choosing Wisely' content to iTriage users for quick access at the right time of need offers both patients and providers a way to bridge this communication gap so that all parties benefit," said Dr. Wayne Guerra, co-founder and Chief Medical Officer of iTriage. "For more than five years, iTriage has been a trusted tool for consumers asking, 'What could be wrong?' and 'Where can I go for care?' iTriage chose to join the 'Choosing Wisely' education effort in order to further help people better manage their health by providing them with questions to ask once they arrive for treatment."
"Consumer Reports Health saw the 'Choosing Wisely' campaign as an opportunity to encourage informed decision-making between patients and providers, a fundamental step in improving outcomes and reducing unnecessary care," said Dr. John Santa, Medical Director, Consumer Reports. "Consumer Reports has always been interested in highlighting products and services that work well, as well as those that don't work well. Choosing Wisely provides information on hundreds of tests and procedures that don't work well in many cases. Our materials facilitate the dialog between physicians and consumers on when something is likely to work and when it's not."
More than 50 specialty societies have now joined the campaign, and more than 30 societies will announce new lists in early 2014. iTriage will initially be distributing to its consumers the "Choosing Wisely" content from the American College of Cardiology, the American College of Physicians and the American Society of Nuclear Cardiology.
# # #
About ABIM Foundation
Recognizing that patients sometimes ask for tests and treatments that are not necessarily in their best interest, and that physicians often struggle with decisions about prescribing tests and procedures as a way of covering all possible bases, the ABIM Foundation has joined with leading medical specialty societies to develop evidence-based lists of tests and procedures for patients and physicians to question as part of Choosing Wisely®. The goal of this campaign is to help physicians, patients and other health care stakeholders think and talk about overuse of health care resources in the United States. The campaign is part of the ABIM Foundation's goal of promoting wise choices by clinicians in order to improve health care outcomes, provide patient-centered care that avoids unnecessary and even harmful interventions, and reduce the rapidly-expanding costs of the health care system.
About iTriage
iTriage LLC, an Aetna subsidiary headquartered in Denver, Colo., is a global healthcare technology company founded in 2008 by two emergency medicine physicians. The company's market-leading platform and mobile/website applications offer a proprietary Symptom-to-Provider™ pathway that empowers consumers to make better health care decisions. iTriage helps people answer the two most common medical questions: "What could be wrong?" and "Where could I go for treatment?" iTriage's free consumer healthcare technology has been downloaded to more than 10 million mobile devices and has hosted more than 50 million sessions last year, literally helping someone every second of every day. Consumers around the globe can download the free iTriage mobile app through the Apple iTunes App Store, the Google Play Android Market or use the iTriage website at http://www.itriagehealth.com. In addition, thousands of health care providers already use the iTriage platform to reach more consumers and increase patient engagement.
About Consumer Reports Health
Consumers Reports is an expert, independent, nonprofit organization whose mission is to work for a fair, just, and safe marketplace for all consumers and to empower consumers to protect themselves. As consumers become increasingly involved in their own health decisions, they need unbiased, accurate, evidence-based information to compare their options and to make appropriate choices for themselves and their families. For more information about Consumer Reports Health go to http://www.ConsumerHealthChoices.org.
Media Contact: For interviews, graphics or additional requests, please contact Dana Guilfoyle at 303.915.4425 or dguilfoyle(at)itriagehealth(dot)com.