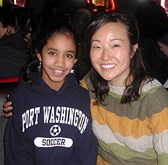 Adopted teens have multiple identities to integrate and adult mentors can help them through this phase by sharing their experiences.
New York, NY (PRWEB) January 23, 2014
"In every corner of our Nation, mentors push our next generation to shape their ambitions, set a positive course, and achieve their boundless potential." The Presidential Proclamation for National Mentoring Month goes on to state, "Mentors help children build confidence, gain knowledge, and develop the strength of character to succeed inside and outside of the classroom. Young people with mentors have better attendance in school, higher self-esteem, a greater chance of pursuing higher education, and a reduced risk of substance abuse."
During the tween and teen years, a young person grapples with many complex issues of identity; adoption adds one more element to integrate. To meet the needs of tweens and teens, the newly launched Modern Family Center at Spence-Chapin Adoption Services offers a wide range of programming including mentorship programs for middle and high school students.
Modern Family Center's mentors are positive, adoptee adult role models who want to share their experiences of adoption and its impact on their lives with domestic and international adoptees who would benefit from a role model and friend who understands them. In addition to participating in social activities throughout NYC, this mentorship program also facilitates discussion on a range of adoption-related topics such as identity, race and culture, and search and reunion. Adult adoptee mentors offer a positive role model as someone who shares the adoptee experience, which aids in the development of positive self-perception for an adoptee teen.
The new Modern Family Center (MFC) at Spence-Chapin, with offices in Manhattan, Brooklyn and Long Island, provides counseling, parent coaching, support groups, youth programming for adopted teens, tweens, and young children, Personal Adoption Histories for adult adoptees, and educational workshops. For prospective adoptive parents, the Modern Family Center offers adoption preparation and training, and home study services.
Spence-Chapin Services to Families and Children is a full-service adoption agency bringing over 100 years of experience to a new mission: creating permanent, loving families for children most in need - older children, siblings and children with special needs. We are growing the pool of willing adoptive parents by lowering the financial barriers to adoption. We educate these families as they consider adoption and reduce the fears that can overwhelm the process. Our mission is driven by the simple belief that Every Child Deserves a Family.