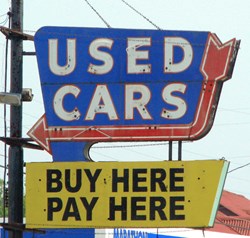 http://approvedtoDrive.us is a user friendly website that is dedicated to helping customers find the optimum car regardless of credit scores.
(PRWEB) January 23, 2014
The website ApprovedToDrive.us has released their online applications for pre-approvals at local Buy Here Pay Here Car Lots. It is an easy and quick application that is available to everyone.
While many customers are struggling through the slow economy, some are finding it hard to finance a car. It is often hard to keep the credit history clean and keep the credit scores high enough for financing with traditional bank financing. Buy here pay here financing eliminates the third party traditional banks by financing directly instead. So dealers offering buy here pay here financing, otherwise known as BHPH or in house financing, make their own criteria for accepting customers for financing ignoring the hard criteria of banks. One main difference is the credit score, it is not even needed with BHPH financing. This allows more people to get approved for financing and hence more satisfied customers who can drive their own cars again.
Now with the well prepared online application found at ApprovedtoDrive.us , car shoppers find it more convenient to buy their car. Once the client fills out the application online, the website does the rest. The information is filtered based on location and income among other things to find the best fit Buy Here Pay Here dealership(s) in the network for the customer. The network has a large selection of BHPH dealerships with a large selection of cars to choose from. This saves time as with the online application, a pre-approval is given fast and the customer goes to only those dealerships that guarantees financing for him. So instead of searching for a car and then getting approved or denied, it is reversed. The customer is given close by locations that accept his financial situation ahead of time and then the customer searches within these dealerships for cars without denials. http://approvedtoDrive.us is a user friendly website that is dedicated to helping customers find the optimum car regardless of credit scores. The loan amount that the customer is approved for depends on each customer. If the financial situation of the customer is deemed reliable to pay a high monthly payment, then so be it. But if the customer can't prove his income, the loan amount approved will be low.
Possible required documents are proof of income and residency, time on the job proof, along with the money that you plan to put in. Down payments vary from dealership to another based on incentives and financial situation and car price among other things. Sometimes, dealerships offer zero down payment offers. Once the documents are provided, a test drive is essential. The customer might even get the keys the same day they applied if the necessary documents are ready.
Since most of the BHPH dealerships offer used cars with AS-IS warranties, one important and helpful tip to keep in mind is to check and recheck the car. If you are allowed to bring your own mechanic then have him check the engine and transmission as they can be costly to repair. Having a good paint job is not a sufficient indication of the car quality. But if you notice a dent or another cosmetic problem, try to use that as a bargaining chip to lower the car price if possible.
While ApprovedtoDrive.us works nationwide in the United States, some of their most active dealerships include Buy Here Pay Here Wichita KS, Buy Here Pay Here Knoxville TN, Buy Here Pay Here Kansas City, Buy Here Pay Here Greensborough, Buy Here Pay Here Omaha, Buy Here Pay Here Tulsa, Buy Here Pay Here Buffalo, Buy Here Pay Here Albany, Buy Here Pay Here Rochester, Buy Here Pay Here Phoenix, Buy Here Pay Here Chattanooga, Buy Here Pay Here Lakeland, Buy Here Pay Here Ocala, Buy Here Pay Here Allentown, Buy Here Pay Here Dayton OH, Buy Here Pay Here Houston TX and Buy Here Pay Here Chicago.
For more information, check out the website at http://ApprovedtoDrive.us