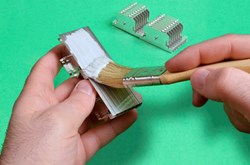 Hackensack, NJ (PRWEB) January 27, 2014
Placing an emphasis on convenient handling, Master Bond MasterSil 705TC features a paste consistency that doesn't require mixing. This single component system sets up in 7 minutes and has a non-corrosive cure at room temperature when exposed to atmospheric humidity.
Suitable for a variety of bonding, sealing and coating applications, MasterSil 705TC delivers thermal conductivity of 14 BTU•in/(h•ft²•°F) or 2.1 W/m•K and retains its electrical insulation properties. This system can also withstand temperatures ranging from -60°F to 400°F. It adheres well to metals, composites and many plastics. As a silicone based system, MasterSil 705TC is also flexible and offers a degree of reworkablity.
This off-white colored silicone is available in 130 gram (100 cc) tubes and has a shelf life of 6 months at room temperature.
Master Bond One Component Silicones
MasterSil 705TC is thermally conductive and electrically insulative for bonding, sealing and coating applications. This single component system is easy to handle, cures readily at ambient temperatures and eliminates the need for mixing and. Read more about Master Bond's one part silicones at http://www.masterbond.com/products/one-part-silicone-adhesives-sealants-and-coatings or contact Tech Support.
Phone: +1-201-343-8983
Fax: +1-201-343-2132
Email: technical(at)masterbond(dot)com.