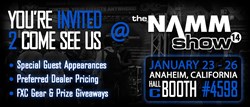 "At last, FXConnectx has shaped the future of wireless technology, an amazing product. I am Paul Freeman and I only play FxConnectx, the Artist Choice." ~ Paul Freeman
Beverly Hill, CA (PRWEB) January 22, 2014
The 100% secure, Ultimate Flexibility 2.0, is a Digital, True-Tone, Wireless Pedal-board converter. The Ultimate Flexibility System 2.0 or UFS 2.0 is universal and converts every hardwired pedal, wah, whammy, and effects pedal offered on the market today to a true-tone, digital-wireless, pedal-board with absolutely zero lag.
This game changing technology allows artists to use their existing gear wirelessly. The UFS2.0 is easy to setup and has a very small footprint, making it travel and rig friendly.
Product demonstrations, tutorials, and special guest performances by FxConnectx artists Paul Freeman, Dru DeCaro, and the infamous Ronny North.
Visit FxConnectx at Booth #4598 in Hall C for these live performances, demonstrations, and giveaways.
"At last, FXConnectx has shaped the future of wireless technology, an amazing product. I am Paul Freeman and I only play FxConnectx, the Artist Choice." ~ Paul Freeman
About Paul Freeman:
Paul Freeman is a singer, songwriter and back up guitarist for The Who, Roger Daughtry, Celine Dion and many more. Paul is set to release his new upcoming record "King of False Alarm" while bringing the record back to his home roots to tour all of Europe throughout 2014.
About Dru DeCaro:
Dru DeCaro is a Grammy-nominated producer, songwriter and guitarist. Dru has performed and creatively produced for Snoop Dogg, Will.I.Am, Game, John Legend and is currently on tour with Grammy award winning R&B artist Miguel. Dru's passion project, indie R&B band 'Monomaniac', will release their debut album in the summer of 2014, produced by Dru and a cast of the genres most sought after producers.
About Ronny North:
Ronny North is an LA native recording artist and solo artist. Ronny is a red haired, LA, home town, solo artist, who knows and has played with many throughout his career. Ronny offers a wide range of guitar playing skills and offers the music industry a truly one-of-a kind style with a euphoric, classic, hair metal, solo, shredding approach.
About FxConnectx:
FxConnectx, LLC is a Technology group headquartered in Beverly Hills, CA, and is the first to perfect and release a full product line of wireless effects pedal, amplifier and mixer control systems currently being distributed in 15 countries across the globe.
Visit FxConnectx, LLC at the 2014 Winter NAMM Show in Anaheim, CA – Hall C – Booth #4598, where they will be showcasing and demonstrating their new tech breakthroughs, current product lines, and accessories.