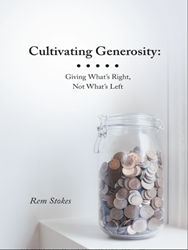 Having excess wealth is a privilege. It's an opportunity to repair the world.
Chicago (PRWEB) January 23, 2014
Many organizations require charitable donations to stay in operation. Rem Stokes, a retired consultant, believes that his lifetime of non-profit experience can help organizations to stimulate giving.
Stokes' book, "Cultivating Generosity" assists individuals in understanding the influences that have shaped their attitudes toward money and personal happiness. Creative exercises throughout the book seek to gently tweak reader's comfort zones and encourage them to be more introspective about philanthropy.
"The book challenges the idea that our money attitudes are unchangeable while providing a rationale for charitable giving," Stokes said. "I believe that the value of money beyond personal sufficiency is to find a cause worth supporting."
"Cultivating Generosity" this book aims at helping organizations, particularly churches, explore the reluctance to discuss money and to present a rational for creating a culture of generosity. It allows members of organizations to explore how donating money can bring happiness and personal satisfaction.
"Having excess wealth is a privilege," Stokes said. "It's an opportunity to repair the world."
"Cultivating Generosity: Giving What's Right, Not What's Left"
By Rem Stokes
Price: $14.99 ISBN: 978-1-4897-0042-1
Available at: Amazon, LifeRich Publishing and Barnes and Noble online bookstores.
About the Author
Rem Stokes has made a ministry of money by helping churches with fundraising issues. He currently resides in Barrington, IL with his loving with and holds twenty- two patents, including one for US laminated coinage.
###