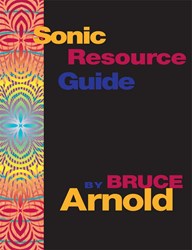 I've been using the concepts I based this book on for years, in my own music. I expect some really fresh sounds to come out of anyone who uses them.
New York, New York (PRWEB) January 24, 2014
In the annals of music education, there are landmark textbooks. Modern examples would be Nicolas Slonimsky's "Thesaurus of Scales and Melodic Patterns" and the "Harmony Book" by Elliott Carter, Nicholas Hopkins, and John F. Link. Rather than being instructional in the mechanical sense (telling a student to "do this") they are compendiums of possibilities, aimed at the advanced musician and providing information and insights into new ways of looking at music. Now Muse-Eek.com presents the "Sonic Resource Guide" a book that explores the possibilities of Pitch Class Sets, which reduce note relationships down to two hundred and twenty prime forms.
Endless combinations of notes can be derived from these prime forms. To tackle the dizzying task of writing out each one, Bruce Arnold enlisted the help of the open source program SuperCollider, "an environment and programming language for real time audio synthesis and algorithmic composition."
"If I had attempted writing a book like this 10 years ago, I would still be writing it" says Mr. Arnold "But because I had access to this amazing and deep free program, I was able to organize the concepts, and translate what I wanted into a code and let the application chew on it." In keeping with its origins, the book is not only available in hard copy, but in a digital download.
What sets the "Sonic Resource Guide" apart for the other books mentioned, is that even though the theoretical material presented could be thought of as "modern classical" it is geared toward the jazz improviser and composer. The book uses concepts familiar to most jazz musicians, like "what chords will fit over or are derived from a given scale" and thus bridges a gap in music education by balancing between the highly mathematical approach to pitch class theory and the often limited scope of jazz improvisation methods. The numerous musical relationships the "Sonic Resource Guide" sets forth can greatly expand the musical palette of the improviser or composer.
Various melodic and harmonic relationships of each pitch class set are listed, along with a listing of possible related jazz chords for each pitch class set. Where appropriate, a listing of all three and four note chords can be found to aid in creating varied and unique harmonic palettes, as well as three, four, six and eight note subset relationships to help in exploring subset based musical ideas.
All musicians will find the information in this book easy to apply because all pitch class set (scales) relationships are listed as both pitch names and scale degrees. Set theory students will find each pitch class set is also expressed in its prime form.
"I've been using the concepts I based this book on for years, in my own music. I expect some really fresh sounds to come out of anyone who uses them." says Arnold. "It may just look like tables, but no other book of this kind is as user friendly." The "Sonic Resource Guide" will also be used in the upcoming Guitar Intensive Workshops which will start in the summer of 2014. These Workshops will include top educators such as: Bruce Arnold, Stuart Hamm, Mimi Fox and Alex Skolnick.