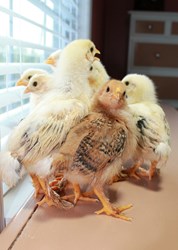 "This family of chicks was big surprise for us," says Long.
(PRWEB) January 23, 2014
A flock of fluffy baby chicks peeping out a window won the USDA sponsored Cutest Bird Photo Contest for December 2013. Amy Long of Lenoir City, TN, submitted the winning image.
"This family of chicks was big surprise for us," says Long. She and her husband Tommy live on three acres in rural Tennessee. They started their flock two years ago with just one hen that promptly disappeared into the woods behind their house.
"For a while we thought we had lost her for good," says Long, "but we came home one day and there she was with all these darling chicks on our front lawn. We raced around gathering them into a box and carried them inside."
Now the Longs have 30 free range chickens –Brahmas, Wyandotte, and Bantams, and 23 guinea fowl. The guineas, she says, eat ticks and help keep the birds free from disease carried by the insects.
She notes that they adore their chickens, which are fun to watch and breed. "We spend a lot of money on treats," she says with a smile. In fact, she adds, it took the hens such a long time to start laying eggs, that they were teased about spending $900 on feed for the initial seven eggs.
But now, she says, they have to give eggs away to friends, "and the chickens give us a lot of joy. Our three sons are grown and gone and we needed to put all the energy we spent raising our children into something else. I guess the flock filled the empty nest!"
Long heard about the four month long Cutest Bird Photo Contest from Andy Schneider, the "Chicken Whisperer," who is a Facebook friend and the USDA's Biosecurity For Birds' national spokesperson. She now plans to friend the USDA "spokesbird" Healthy Harry, who has a new Facebook page for backyard poultry owners at https://www.facebook.com/pages/Healthy-Harrys-Biosecurity-For-Birds/537623279666178.
The contest began December 1, 2013. At the end of each month, the winning photos will be posted on the Biosecurity For Birds web site. The winners will be considered for inclusion on the 2015 Biosecurity For Birds Calendar. For an entry form, contest rules and more information visit https://web01.aphis.usda.gov/biobird_contest.nsf/contest_entry?OpenForm.
The Biosecurity For Birds program, begun in 2004, is designed to educate backyard poultry owners and bird enthusiasts about highly contagious poultry diseases and other threats to birds. The program helps inform bird lovers how to prevent disease and tells them what to do if they suspect their birds might be ill.
-30-
Media representatives may contact Joelle Hayden at joelle.r.hayden(at)aphis(dot)usda.gov (301) 851-4040 or Pam Goldstein at pgoldstein(at)diversitymc(dot)com 973-377-0300, Ext. 14.