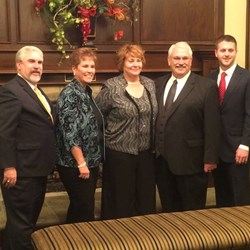 Find a way to become a legacy!
Lubbock, Texas (PRWEB) January 23, 2014
Strong teamwork can make the difference between success and failure. Think about the last time you were involved with a team to accomplish a task, whether it was for work, civic duties or your child's school function. Did the members of the team work well together? Did someone go above and beyond?
When everyone gets involved, the outcome can be truly amazing.
The Lubbock Association of Realtors hosted their Annual Installation Banquet on January 10th, 2014. Teamwork was exactly what Nancy Rawls, 2014 President talked to the members about. "I challenged the members to get involved: leadership starts from the top but I am only as good as the team that surrounds me."
Rawls asked them to focus on unity, harmony and teamwork – to build a strong foundation so they could make 2014 a year of change. Not only did Nancy speak about teamwork and strong foundations, but she also challenged them to find an organization they are passionate about and find a way to become a legacy. The saying "Be the change you want to see in the world" sums up the point she was making.
2014 is predicted to be a great year for real estate industry due to the remaining low interest rates, low inventory of homes on the market and the continuing stabilization of the Lubbock economy. With the strong predictions and the challenges that Nancy has set before them, 2014 is on track to be an outstanding year for Lubbock real estate and the Lubbock Realtors.
Officers inducted at the 2014 banquet are: Nancy Rawls - president, Rusty DeLoach – president elect, Charles Kearney – treasurer, Jef Conn- secretary.
Directors inducted at the banquet are Leigh Ann Brozo, Vanessa Dirks, Nathan Jordan, Tara Newton, Jeff Sellers, Susan Shakespeare, Cynthia Arriaga, Frank Harmon, Jacky Howard, Dan Williams, Jana Wuthrich.
RE/MAX Lubbock had several members involved in the Lubbock Association of Realtors Induction Banquet: Nancy Rawls, president, and Rusty DeLoach, president elect, were inducted; Tony Lloyd was the Master of Ceremonies and Lori Manning was the Banquet Chairman.