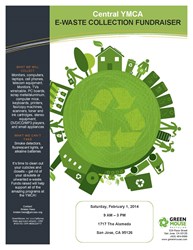 "This community building event is about healthy living and encouraging people to recycle their unwanted electronics , a winning combination," said Evelyn O'Donnell, GreenMouse, Inc. President and CEO.
San Jose, CA (PRWEB) January 23, 2014
The event will be held Saturday, February 1st from 9AM- 3PM at Central YMCA, San Jose, 1717 The Alameda, San Jose, Calif. This e-waste collection event will be set up to allow for quick and convenient drop-off of electronics. GreenMouse, Inc. staff members will be on hand to collect items from community members' vehicles.
Green Mouse, Inc. will accept televisions, computers, laptops, monitors, keyboards, mice, printers, cell phones, telephones, radios, stereo, CD/DVD players, wire, and appliances. GreenMouse, Inc. is unable to accept batteries, smoke detectors, or fluorescent lights. GreenMouse, Inc. has the expertise necessary to guarantee your data is secure and your electronic equipment is processed in the most responsible manner.
"We are excited to offer this recycling opportunity to our Central YMCA members as a way to promote social responsibility in our community. After attending GreenMouse Recycling's health fair last year, which was just around the corner from our branch, we wanted to come up with even more ways to partner with them," said Kristen Hess, Director. "This community e-waste recycling drive is the perfect fit."
About GreenMouse, Inc.
GreenMouse, Inc. was founded in 2005 with the purpose of creating jobs for disadvantaged young adults and to provide electronic waste recycling services and fundraising events to the community. GreenMouse trains and hires at-risk young adults and high school students. The company partners with the City of San Jose and its work2future program and Rebekah Children's Services and its wraparound program to foster job development. For more information, visit http://www.greenmouse.com.
About Central YMCA
Central YMCA enriches kids, adults, families and communities through well-being and fitness, camps, family time, swim, sports and other play for people of all ages, incomes and abilities. Central YMCA is more than your local health and fitness club with a pool and gym. Central YMCA helps build a healthy spirit, mind and body for all with core values of caring, honesty, respect and responsibility at the heart of everything they do.
###