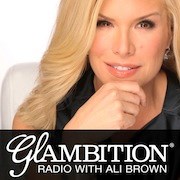 Scottsdale, AZ (PRWEB) January 24, 2014
Award-winning entrepreneur mentor Ali Brown has launched a new weekly digital radio show focused on the stories and advice of top women entrepreneurs. Glambition™ Radio launched this week on iTunes and several other online channels.
"Women are rewriting the rules for business success, making money, and changing the world," Brown says. "Being feminine in business is now an advantage, and Glambition™ Radio celebrates that, encourages that, and starts a powerful conversation around that."
Each week, Brown will be interviewing women who are today's top entrepreneurs, new thought leaders, passionate business builders, and catalysts of change. Special guests featured in the initial launch weeks include:
Alli Webb, founder and president of The Dry Bar blow-dry phenomenon
Tory Johnson, Good Morning America contributor and author of The Shift
Jessica Herrin, founder & CEO of "social selling" jewelry company Stella & Dot
Alexa von Tobel, founder & CEO of LearnVest.com and author of Financially Fearless
Porter Gale, author of Your Network is Your Net Worth and former VP of Marketing for Virgin America
Kara Goldin, conscious capitalist, founder and CEO of Hint Water
Pam Slim, author of Body of Work and Escape from Cubicle Nation
JJ Virgin, celebrity fitness expert, NY Times bestselling author of The Virgin Diet
Women's entrepreneurship is a hot topic, with nearly half of all new businesses in the U.S. being launched by women, the number of women-owned firms increasing steadily at a rate of 1½ times the national average, and Forbes.com declaring that 2014 will be a breakout year for women entrepreneurs.
Brown agrees. "While women in the corporate world are being encouraged to break through the glass ceiling, 'lean in', and try to affect change from within outdated, hierarchical organizations… women entrepreneurs are saying 'see ya' and going off to create the kind of companies we wanted to work for, pay ourselves what we want to earn, and generate the type of impact we want to effect. Instead of wishing for things to change, we are just going out and being the change."
But this won't be a typical business show. Brown says she's most interested in the stories behind the women's successes. She'll be asking questions such as: How did they get their business idea? Did they get funding, or bootstrap it on credit cards? What did they do when people told them they were crazy? And for the moms… how have they raised great kids in the process?
"Women need a show like this to raise their awareness that, yes, they can do it too," Brown says. "The entrepreneurs and leaders I'm interviewing have remarkable stories to tell. Most of them started at their kitchen tables with nothing but an idea. They're building businesses, raising families, making millions, changing the world, and inspiring other women along the way. I mean… who doesn't want to be a part of that?"
Brown—who has mentored thousands of small business owners herself—says she decided to deliver the show via a podcast format to enable women around the world to listen digitally and on-demand—whether it's on their computer or on their smart-phone or in their car. New episodes will be posted weekly.
To access Glambition Radio on iTunes now, go to: http://www.alibrown.com/ab/glambitionradio/, and for more information on Ali Brown, go to http://www.alibrown.com.
=======================================
About Ali Brown
Ali Brown has been dubbed by Business News Daily as "the entrepreneurial guru for women". As founder and CEO of Elevate/Ali International, she has created an Inc. 500-ranked organization devoted to empowering women entrepreneurs around the world. Brown was named one of Forbes' Women to Watch and one of Ernst & Young's Winning Women Entrepreneurs. She was featured on the ABC hit primetime show, Secret Millionaire, and is a current spokesperson for Chase's latest small business program. Brown provides business and success advice and resources to over 200,000 followers via http://www.AliBrown.com and her social media channels.
For inquiries, interviews, or appearances, contact:
Jennifer.Clark(at)alibrown(dot)com or 888-484-5559 Ext. 21
######