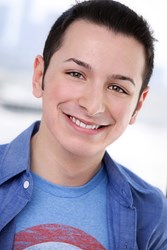 This is a very explosive and damaging documentary that is going to make waves.
Los Angeles, CA (PRWEB) January 22, 2014
Steven Mango, a rising actor with appearances on several hit TV shows, is set to release a tell-all documentary about his experiences inside the Church of Scientology that will expose the truths about the faith and their controversial anti-gay stance.
"I am not holding anything back because I want people to see Scientology for the sham it is and how it destroys people inside and out," Mango said. "The truth about Scientology needs to be exposed to the world."
His revealing documentary will come out on Sunday, detailing the personal abuse Mango was subjected to as a member of the Church of Scientology. He is being completely candid about his experience and will share his personal secrets about the faith to educate others about his completely revolting experience.
"I begin the documentary by taking you on my journey from a fresh faced new actor who just arrived in Los Angeles, full of hopes and dreams, to ultimately being recruited into Hollywood's most dangerous, secretive and famous cult," Mango said.
According to Mango, a major secret he will disclose about Scientology is its hatred filled anti-gay bias and how it claims to cure homosexuality.
"I was an insider of the Scientology Celebrity Centre, which is the exclusive branch of the Church for famous and well-known parishioners," he said. "I am not afraid of the church and I am going to reveal top secret information. This is a very explosive and damaging documentary that is going to make waves."
A special screening of the documentary will take place on Sunday, January 26 at the ACME Theater in Hollywood. It is an exclusive and highly anticipated event that will have many big celebrities and prominent, high level ex-Scientologists and critics in attendance. The public is welcome at this dramatic event and tickets are available at http://TixAC.ME/CelebCentreExposed.
The trailer to "Inside the Scientology Celebrity Centre: An Ex-Parishoner Reveals All" can be viewed on his YouTube channel at http://www.youtube.com/user/mangoman7591.
For more information about Steven Mango, check out his website at http://www.stevenmango.com.
He also can be reached through his public relations firm, Luminary PR, at http://www.luminarypr.com or via email at steven(at)luminarypr(dot)com.