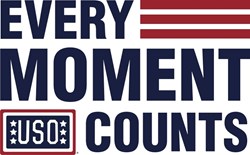 Having the opportunity to meet the men and women who protect this country, and their familes, and to share some lasting moments with them is a great honor. - Jonathon Goldsmith
Arlington, VA (PRWEB) January 23, 2014
Twitter Pitch: Things get interesting for troops in Cuba when Jonathan Goldsmith and @PHILHEATH stop by on @the_USO tour
WHAT: USO tour featuring the man who portrays "The Most Interesting Man in the World" Jonathan Goldsmith and 2013 Mr. Olympia Phil "The Gift" Heath
WHEN: January 31 – Feb 2, 2014
WHERE: Guantanamo Bay, Cuba
WHY: What happens when the man who portrays "The Most Interesting Man in the World," Jonathan Goldsmith, wants to do something extraordinary? He sets out on a USO tour with three-time Mr. Olympia Phil "The Gift" Heath to bring a touch of home to deployed troops and military families serving overseas. The pair is starting the New Year by giving back to troops and military families in Cuba, and joining the USO's Every Moment Counts campaign, a national campaign to rally Americans to show their support for our U.S. armed forces and military families. As part of their first USO tour, Goldsmith and Heath will spend the coming days extending America's thanks to U.S. troops and their families stationed abroad.
Goldsmith is perhaps most recognizable for his portrayal of the charming, bronzed, bearded gentleman behind the wildly successful Dos Equis advertising campaign, which lead to his moniker of "The Most Interesting Man in the World." A New York City native, Goldsmith's acting credits includes more than 350 television guest-starring roles as well as on and off-Broadway performances. Additionally, he has worked alongside iconic actors such as Clint Eastwood and Burt Lancaster.
Heath's bodybuilding career took off in 2003, when he was awarded the overall title for The Rocky Mountain National Physique Committee USA Championship "Northern," and the 250-lb powerhouse has been dominating the bodybuilding scene ever since. Taking home the coveted Mr. Olympia title in 2011, 2012 and 2013. Heath has also been featured on the cover of top industry publications such as "FLEX" and "Muscular Development."
Entertainment tours are one of the many ways the USO is there to support troops and military families. Visit us online at USOmoments.org to find out how you can "take a moment" to thank our troops or "give a moment" by supporting the various USO programs and services designed to enrich the lives of our troops and military families.
QUOTES:
Attributed to Jonathan Goldsmith
"I've been looking forward to doing my first USO tour for a while. Having the opportunity to meet the men and women who protect this country, and their families and share some lasting moments with them is a great honor and I can't wait to be able to tell them 'thank you' for all that they do day in and day out for us."
Attributed to Phil "The Gift" Heath
"I have always admired the power of strength, but never more so than when it comes to our troops. Their strength of courage, conviction and dedication make this a better place for us to live in and I'm grateful to be traveling on my first USO tour and for the chance to let our military know that every moment they sacrifice is appreciated."
For more information about the USO, visit uso.org.
About the USO
The USO lifts the spirits of America's troops and their families millions of times each year at hundreds of places worldwide. We provide a touch of home through centers at airports and military bases in the U.S. and abroad, top quality entertainment and innovative programs and services. We also provide critical support to those who need us most, including forward-deployed troops, military families, wounded warriors and families of the fallen. The USO is a private, non-profit organization, not a government agency. Our programs and services are made possible by the American people, support of our corporate partners and the dedication of our volunteers and staff.
In addition to individual donors and corporate sponsors, the USO is supported by President's Circle Partners: American Airlines, AT&T, Clear Channel, The Coca-Cola Company, Grand Canyon University, jcpenney, Jeep, Kangaroo Express, Kroger, Lowe's, Northrop Grumman Corporation, Procter & Gamble and TriWest Healthcare Alliance and Worldwide Strategic Partners: BAE Systems, The Boeing Company, Lockheed Martin, Microsoft Corporation and TKS Telepost Kabel-Service Kaiserslautern GmbH & Co. KG. We are also supported through the United Way and Combined Federal Campaign (CFC-11381). To join us in this patriotic mission, and to learn more about the USO, please visit uso.org.