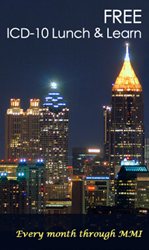 Join MMI for a complimentary lunch & outstanding education!
Alpharetta, GA (PRWEB) January 23, 2014
MMI is very proud to be hosting a free "ICD-10 Lunch & Learn" event each month for our valued members & alumna, worth 2 ARHCP/MMI CEUs (pending approval from other organizations).
The ICD-10 events will be presented by Ms. Kathy Dyson, the Learning Director for the Medical Management Institute (MMI) and CEO of Dyson Consulting. Ms. Dyson will speak on "ICD-10: Practices in Peril" and will give a brief history of ICD-10, the structure of ICD-10 codes, the changes every practice needs to know about, the documentation needed, and how to transition a practice.
Click here for details on the upcoming locations, dates & RSVP information. We can't wait to see everyone there.
Can't attend the live events? Check out MMI's online ICD-10 training for coders, billers, providers, clinical staff, and/or billers.
The Medical Management Institute(MMI) is authorized under the Nonpublic Postsecondary Educational Institutions Act of 1990. With over 25 years experience and an alumni base of nearly 250,000 students, the Institute is confident our classes will provide the information you need.