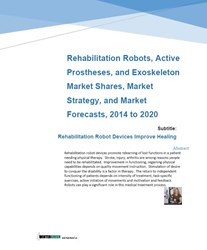 Rockville, MD (PRWEB) January 30, 2014
WinterGreen Research announces that it has published a new study Rehabilitation Robots, Active Prostheses, and Exoskeleton Market Shares, Strategy, and Forecasts, Worldwide, 2014 to 2020. The 2014 study has 326 pages, 154 tables and figures. Worldwide markets are poised to achieve significant growth as the rehabilitation robots, active prostheses, and exoskeletons are used inside rehabilitation treatment centers and sports facilities providing rehabilitation for all patients with injuries or physical dysfunction.
Relearning of lost functions in a patient depends on stimulation of desire to conquer the disability. The independent functioning of patients depends on intensity of treatment, task-specific exercises, active initiation of movements and motivation and feedback. Rehabilitation robots can assist with this task in multiple ways. Creating a gaming aspect to the rehabilitation process has brought a significant improvement in systems.
As patients get stronger and more coordinated, a therapist can program the robot to let them bear more weight and move more freely in different directions, walking, kicking a ball, or even lunging to the side to catch one. The robot can follow the patient's lead as effortlessly as a ballroom dancer, its presence nearly undetectable until it senses the patient starting to drop and quickly stops a fall. In the later stages of physical therapy, the robot can nudge patients off balance to help them learn to recover.
To order this report:
Rehabilitation Robots, Active Prostheses, and Exoskeletons: Market Shares, Strategies, and Forecasts, Worldwide, 2014 to 2020
Contact: Shauna
800.298.5699
Customerservice(at)marketresearch(dot)com
WinterGreen Research
WinterGreen Research, founded in 1985, provides strategic market assessments in telecommunications, communications equipment, health care, Software, Internet, Energy Generation, Energy Storage, Renewable energy, and advanced computer technology.
About MarketResearch.com
MarketResearch.com is the leading provider of global market intelligence products and services. With research reports from more than 720 top consulting and advisory firms, MarketResearch.com offers instant online access to the world's most extensive database of expert insights on global industries, companies, products, and trends. Moreover, MarketResearch.com's Research Specialists have in-depth knowledge of the publishers and the various types of reports in their respective industries and are ready to provide research assistance.
Follow us on Facebook http://www.facebook.com/marketresearchdotcom
Follow us on Twitter http://www.twitter.com/marketresearch_
Rehabilitation Robots, Active Prostheses, and Exoskeletons: Market Shares, Strategies, and Forecasts, Worldwide, 2014 to 2020 - Table of Contents:
1. REHABILITATION ROBOT MARKET DESCRIPTION AND MARKET DYNAMICS
2. REHABILITATION ROBOT MARKET SHARES AND MARKET FORECASTS
3. REHABILITATION ROBOTS, ACTIVE PROSTHESES, AND EXOSKELETON PRODUCTS
4. REHABILITATION ROBOTS, ACTIVE PROSTHESES, AND EXOSKELETON TECHNOLOGY
4.1 InMotion Robots Technology
4.2 HEXORR: Hand EXOskeleton Rehabilitation Robot
4.3 ARMin: Upper Extremity Robotic Therapy
4.4 HandSOME: Hand Spring Operated Movement Enhancer
4.5 Cognitive Science
5. REHABILITATION ROBOT COMPANY PROFILES