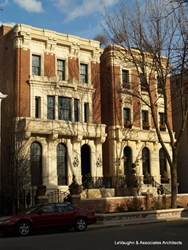 Tim is a brilliant residential architect. His attention to classical detail is unparalleled, and the reason the homes he designs appreciate with time. - Jennifer Ames President, Jennifer Ames Chicago
Chicago, IL (PRWEB) January 23, 2014
LeVaughn+Associates provides clients with leadership and unsurpassed service that begins with studies of site, budget, legal restrictions, and program and continues through the project to post-occupancy services.
Each client is regarded as a valuable collaborator throughout the design process, and comprehensive, well-documented information allows the client to make educated decisions about the design, schedule, and budget.
LeVaughn+Associates reputation for excellence is based on outstanding service and quality control. Each project involves unique challenges and we receive the highest accolades from clients, consultants, users, contractors, and the brokerage community.
Services include:
Pre Design:
Feasibility Studies, Master Planning, Site Analysis and Selection, Programming. Existing Conditions Surveys
Architectural Design:
Building Design, Site Design, Contract Drawings, Contract Specifications, Cost Analysis
Construction Administration:
Project Coordination, Bid Documents,, Historic Preservation Review, ADA Compliance
Graphics and Rendering:
Renderings, Marketing Graphics, Photo-realistic 3D Modeling
LeVaughn+Associates Architecture.Interiors has delivered for Clients and the Brokers who represent them the most distinctive, sought after Residential Architecture in Chicago and beyond.
Excellence in Design sells in any market.
Project Inquires:
LeVaughn+Associates welcome the opportunity to discuss design services.
Please contact the office regarding project needs.
Telephone: 312-371-8483
Email: Tim(at)timothylevaughn(dot)com
Web: http://www.timothylevaughn.com
LeVaughn+Associates Architecture Interiors
1919 N. Sheffield Avenue
Chicago, Illinois 60614