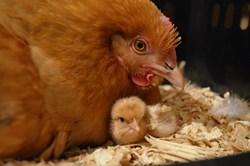 (PRWEB) January 23, 2014
A flock of chicks peeping out a window and a mother hen snuggling with her baby are the winners in the USDA's Cutest Bird Photo Contest for December 2013. Shelly Pringle of Chesapeake, VA and Amy Long of Lenoir City, TN took the honors in the Biosecurity For Birds competition.
Pringle's photo of mother hen "Peep" cuddling her new baby chick was a hit with the judges. "Peep is a Buff Orpington – most of my hens are. I was surprised how much warmth and personality this breed has. They'll walk right up to you and they love to be petted," she said.
Shelly and Jim Pringle live on three acres in a rural area and were inspired to raise chickens by their next door neighbor. "They have chickens and enjoy them so much. I thought, 'I can do that!'" Shelly said. They now have a flock of nine laying hens, four younger chickens and a feisty Buff Brahma rooster named Pete.
Amy Long and her husband Tommy started their flock two years ago after their first free range hen hatched a flock of baby chicks in the woods behind their house. "She disappeared for a while and we thought we had lost her," said Long, "but we came home one day and there she was with all these adorable chicks on our front lawn. We raced around gathering them into a box and carried them inside."
Long's photo of the seven babies looking out a window was a winning image. Now the Longs have 30 free range chickens –Brahmas, Wyandotte, and Bantams, and 23 guinea fowl. "Our three boys are grown and gone," she says with a smile, "and we needed to put all the energy we spent raising our children into something else. I guess the flock filled the empty nest!"
The four month Cutest Bird Photo Contest began in December 2013 and will run through March 31, 2014. At the end of each month, the winning photos are posted on the Biosecurity For Birds web site. The winners will be considered for inclusion on the 2015 Biosecurity For Birds Calendar. For an entry form, contest rules and more information visit https://web01.aphis.usda.gov/biobird_contest.nsf/contest_entry?OpenForm.
The Biosecurity For Birds program, begun in 2004, is designed to educate backyard poultry owners and bird enthusiasts about highly contagious poultry diseases and other threats to birds. The program helps inform bird lovers how to prevent disease and tells them what to do if they suspect their birds are infected.
-30-
Media representatives may contact Joelle Hayden at joelle.r.hayden(at)aphis(dot)usda.gov (301) 851-4040 or Pam Goldstein at pgoldstein(at)diversitymc(dot)com 973-377-0300, Ext. 14.
Pictures are available for your use by contacting Pam Goldstein at the email above.