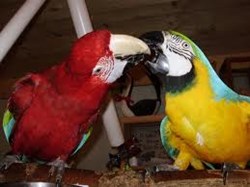 Animal Support is excited about funding a platform to find good homes for these birds.
(PRWEB) January 30, 2014
Animal Support has pledged to help the North East Parrot Placement Cooperative, and the bird rescue association Foster Parrots by funding the development of a website that will pair qualified caregivers with parrots needing homes. The website will be accessed exclusively by certified veterinary clinics, rescue centers, adoptive organizations, and humane shelters which are currently overwhelmed with the need for proper caregivers for abandoned exotic birds.
"Rescue facilities and shelters are overrun and do not have the resources to care for all of the birds entrusted to their care. They need an outlet that can pair healthy and socialized companion parrots with nurturing adoptive caregivers to give the birds a long-term home," says Dr. Michael Omidi, cofounder of Animal Support. "Animal Support is excited about funding a platform to find good homes for these birds."
The North East Parrot Placement Cooperative (NEPPCO) was founded by Foster Parrots and other bird rescue organizations, to help place unwanted birds within adoptive homes. Because a large number of surrendered birds are not necessarily in need of emergency care, a system is needed to give healthy birds comfortable homes, which in turn creates space for injured and sick birds that cannot be placed.
NEPPCO focuses on providing information about both the birds in need of adoption as well as profiles of prescreened caregivers. The closed website will be used solely for the purpose of facilitating permanent adoptions and not for the transfer of birds from facility to facility. The NEPPCO website will provide shelters and adoption organizations with detailed profiles of the parrots needing homes, including photographs and pertinent background and health information. Parrot surrender requests will also be listed.
Foster Parrots (http://www.fosterparrots.com) operates a parrot and wildlife sanctuary in Hope Valley, Rhode Island to care for unadoptable parrots and exotic wild animals. In addition to housing parrots, the sanctuary currently shelters tortoises, African crested porcupines, aquatic turtles, peacocks, chickens and many species of waterfowl. Foster Parrots also offers a virtual adoption program, where sponsors can donate funds for the care of a parrot. Funding goes towards veterinary care, food, toys and aviary furniture. Sponsorships are good for one year from the issue date, and sponsors receive a photograph of the parrot, a biography of the parrot detailing its species, life history and personality, and an official Certificate of Virtual Adoption.
Animal Support (http://www.animalsupport.org) is dedicated to addressing pet over-population and abuse by promoting charities working on behalf of animal well-being. The organization was founded by brothers Dr. Michael Omidi and Julian Omidi along with long-time friend Maria Abaca to advocate for animal protection, rescue, adoption, and spay and neuter laws. Animal Support does not accept donations but encourages direct contributions of money and talents to the charities and organizations featured on our website. For more information about Animal Support, send a message using the website's Contact Us function, check out Animal Support on Facebook, Twitter, Google+, and Pinterest.