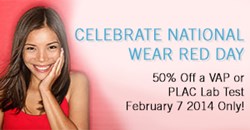 '...to check their cardio risk factors, we're offering half off two crucial heart health tests on National Wear Red Day, Feb. 7.' -Clarissa Bradstock, CEO
Alpharetta, GA (PRWEB) February 03, 2014
The Centers for Disease Control estimates that heart disease is responsible for one in every four deaths annually in the United States. This February, to celebrate American Heart Health Month, ANY LAB TEST NOW® is encouraging Americans to Take Control Of Your Health® and come in for testing and monitoring. To further encourage Americans to get their heart health checked, ANY LAB TEST NOW is offering 50 percent off a VAP or PLAC test only on Feb. 7.
"This year we don't just celebrate American Heart Health Month but the 10th birthday of the American Heart Association's Go Red for Women campaign," said Clarissa Bradstock, CEO. "To recognize that milestone and encourage all our customers and patients of our physician referrals, to check their cardio risk factors, we're offering half off two crucial heart health tests on National Wear Red Day, Feb. 7. Our store locations will also be decorating their offices in red to help raise awareness of Go Red for Women."
The Vertical Auto Profile (VAP) test includes a cholesterol panel, apolipoproteins panel and non-HDL cholesterol, remnant lipoproteins, Lp(a) and LDL density pattern tests. Together these form an extremely accurate picture of an individual's potential for heart disease and diabetes. The PLAC test measures an increased enzyme which is present when your arteries are inflamed and can help your physician better assess your risk for heart attacks and stroke. It also helps to assess the risk of coronary heart disease and ischemic stroke, associated with atherosclerosis.
The company also offers a host of other tests to help monitor for and manage heart disease. To learn more about ANY LAB TEST NOW, visit http://www.anylabtestnow.com.
About ANY LAB TEST NOW®
Founded in 1992, ANY LAB TEST NOW is a franchise direct access lab testing company that provides thousands of standard lab tests to consumers and businesses in a professional, convenient and cost-effective, transparent manner. With over 150 facilities around the U.S., ANY LAB TEST NOW offers a variety of affordable and confidential lab tests to consumers and businesses including general health and wellness panels, pregnancy, HIV/STD, drug, paternity and many more tests. To learn more about ANY LAB TEST NOW, visit our website or like us on Facebook.