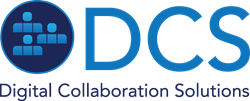 "We are extremely pleased and excited to add Charlene, Chuck and Naomi to our distinguished advisory board," said Michael Levinger, president and CEO of Digital Collaboration Solutions. "Each brings deeply unique experience to the health IT field."
Boston, Mass. (PRWEB) January 28, 2014
Digital Collaboration Solutions (DCS), the health care solutions leader for facilitating critical business process change and improved outcomes through innovative care coordination, communications and collaboration, is pleased to announce the addition of three dynamic healthcare industry veterans to its advisory board: Chuck Podesta, senior vice president and chief information officer, Fletcher Allen Health Care and Fletcher Allen Partners; Naomi Fried, chief innovation officer, Boston Children's Hospital; and Charlene Underwood, senior director of government and industry affairs, Siemens Medical Solutions.
Each brings deep industry experience and perspective to DCS that will accelerate the organization's growth and unique position in the healthcare IT marketplace.
Podesta brings 30 years of experience, including numerous leadership roles. At Fletcher Allen, his healthcare IT experience is integral to Fletcher Allen Partners' success as an integrated care system and accountable care organization. Under his leadership Fletcher Allen has successfully implemented Epic as its hospital information system. He is vice chair of the board of directors for Vermont Information Technology Leaders (VITL), which is both the designated health information exchange (HIE) for the state of Vermont and its federally designated regional extension center (REC). Podesta came to Fletcher Allen in 2008 after serving as SVP and CIO at Caritas Christi Health Care (now Steward Health Care) in Brighton, Mass.
As a longtime health IT veteran, Podesta lends often his expertise to the national stage, including seats on Office of the National Coordinator for Health IT (ONC) working groups. He also serves on the advisory board for HealthSystemCIO.com and the editorial board at Healthcare Informatics Magazine.
Naomi Fried offers more than a decade of thought leadership expertise in several senior leadership roles as well as an in-depth understanding of how technology can spur healthcare innovation. As Boston Children's Hospital's first Chief Innovation Officer, Fried leads a team that promotes technological, clinical-process, and business model innovation across the world-renowned pediatric institution.
The Innovation Acceleration Program she leads focuses on enhancing the innovation culture by supporting strategic innovation initiatives, resourcing grass roots innovation, and identifying unmet innovation opportunities. Prior to joining Children's, Dr. Fried served as Vice President of Innovation and Advanced Technology at Kaiser Permanente, where she built and managed a team of clinicians and technologists charged with identifying and assessing emerging clinical technologies and introducing them to operational leaders within Kaiser Permanente.
As Senior Director of Government and Industry Affairs at Siemens Healthcare, Charlene Underwood continues to build upon her reputation as one of the country's foremost healthcare informatics experts. She directs Siemens outreach and advocacy activities in emerging market initiatives, specifically those related to government activities in healthcare IT. Underwood is delivering Siemens' message to key stakeholders throughout the healthcare industry and on Capitol Hill, while developing programs that enable Siemens leadership in key government and industry initiatives.
Underwood served as the Vice Chair and Chair, HIMSS Board of Directors and as the first chair of HIMSS Electronic Health Record Vendor Association (EHRVA), is on the Federal Health IT Policy Committee Meaningful Use Workgroup, the HL7 Advisory Board, a member of the American Health Information Community (AHIC) Quality Workgroup and Expert Panel, and has sat on many other advisory groups involved in HIT development. Her many accomplishments include earning the HIMSS Fellow designation and being elected to HIMSS board. She boasts an accomplished history of actively advocating for industry involvement in defining how health IT is a means to improving patient safety and outcomes while reducing costs.
"We are extremely pleased and excited to add Charlene, Chuck and Naomi to our distinguished advisory board," said Michael Levinger, president and CEO of Digital Collaboration Solutions. "Each brings deeply unique experience to the health IT field that recognizes the power of eCollaboration as an industry game-changer. We are eager to continue to build our organization through their steady guidance and invaluable insights."
The new advisory board members join: Michael Aldridge, vice president of operations at Kansas Foundation of Medical Care and President and CEO of Synovim Healthcare Solutions, Inc.; Karen Bell, M.D., chairperson of the Certification Commission for Health IT (CCHIT) and member of the healthcare IT Policy Committee Accountable Care Workgroup; Andy Freed, president, Virtual, Inc. and former CIO of the Massachusetts Hospital Association; Roger Holloway, executive director, IL-HITREC and Joe Heyman, M.D., a Massachusetts board-certified gynecologist, member of the Board of Directors of the Whittier Independent Practice Association and past chairman of the American Medical Association Board of Trustees.
About Digital Collaboration Solutions, LLC
Digital Collaboration Solutions is a consulting and services company that helps healthcare organizations improve care coordination, patient experience, and provider engagement through innovative care coordination, communications, collaboration, and technology. Our team combines healthcare, healthcare IT and communications experience with the latest in digital collaboration technologies to deliver measurable results and improved outcomes. Visit thinkdcs.com and follow us at @thinkdcs for the latest in healthcare collaboration.