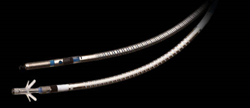 "It will be interesting to see if Judge Shiltz follows the lead of Judge Selna and allows the plaintiffs a chance for justice said Rhett A. McSweeney, Partner, McSweeney/Langevin.
St. Paul, Minnesota (PRWEB) January 24, 2014
St. Jude's Motion for summary judgment to dismiss some defective Riata lead cases was heard on January 6, 2014 before Judge Patrick J. Schiltz. The case Pinsonneault v. St. Jude Medical, Inc. et al, docket number 0:12-cv-01717 (D. Minn.). involves a claim that St. Jude was negligent in its manufacturing of of its line of Riata Defribilator leads. Riata leads have been the subject of numerous lawsuits and an FDA Recall alleging that the leads insulation is failing potentially leading to unnecessary shocks or death.
This case follows Federal Judge James V. Selna's January 9, 2014 order denying St. Jude's Motion to Dismiss five cases alleging manufacturing defects causing their St. Jude Riata Leads to fail. The Honorable James V. Selna ruled in the case of In Re St. Jude Medical Device Litigation, SACV 13-383 JVS (AN) that Plaintiffs had met their burden of showing a plausible connection between the injuries they suffered and the alleged defective St. Jude leads under the Twombly/Iqbal pleading standard. Judge Selna also held that Plaintiffs stated claims parallel to federal requirements or premised upon violations of FDA regulations, and were therefore not preempted by federal law.
McSweeney/Langevin represents a large number of patients effected by St. Jude Medical's defective Riata Leads.
About the personal injury law firm of McSweeney/Langevin
With the sole purpose of helping the injured, the personal injury law firm McSweeney / Langevin ensures victims and victims' families are adequately compensated for wage loss, medical expenses and pain and suffering. While most firms have you speak with an "investigator" or "case manager," McSweeney / Langevin connects people with one if its attorneys who will be handling your case. The firm handles personal injury cases related to dangerous/defective pharmaceutical drugs, dangerous/defective medical devices, and serious/catastrophic injury claims. For more information, visit http://www.westrikeback.com or call 1-800-888-4425